Tower Over Him, Shadow Over Me
April 26, 2009
"There is no excuse for Domestic Abuse"
Don't wait
Ortralla Mosley was a good student, a cheerleader, a school dance-squad leader -- a responsible and thoughtful girl well liked by both students and teachers. At 4:22 pm on Friday, March 28, the Austin Police Dept. was called to Reagan High School. Fifteen year old Ortralla Mosley, had been stabbed to death in the schools hallway by her former boyfriend, sixteen year old Marcus McTear. According to those who were present at the scene. Students and Teachers were "screaming ,crying, and hollering", nobody could believe what have been taken place. When you wait to tell someone what's happening in your abusive relationship, death could be around the corner.

Open your eyes
When an abuser is ready to abuse they take gradual steps leading up you being hurt. When you start to notice them get to clingy and obsessive STOP!!, that should tell you something. When he starts to boss you around telling you what you should wear and how you should wear it, well that saying something. He is trying to get the message across that he owns you and you're his property. Most women tend to think that its out of love or kindness, but a guy sees it as total claim.
Be aware of his actions and how it changes. The big RED light is when he puts his hands on you. Out of mistake or not, violence is not the key. A victim may try to say "Well he was very stressed", that does not matter. Men can go to the gym if they need something to hit out of stress, but do not make yourself his punching bag. When a man has a poor self-image and blames others for his problems, also if he show a series of severe moods swings you should know that he is not ready nor is he stable for a healthy relationship. When you see these signs you need to open your eyes and see that they are true.

A love ones cry
What should you do if you suspect someone is being abused? Do you notice that a friend or family seem to be distant or different? Or Has unexplained injuries that go untreated? STOP!!, this person maybe in an abusive relationship. You do not try to handle things yourself, but bring up your observations to adults that you know can help and you can trust this information with. There should be no reason to feel bad because truthfully, you may have just help somebody from being really close to death. You have heard a loves ones cry, even without the sound so now you are responsible for helping.

Getting help
Most women can not just leave an abusive relationship. Men tend to cling onto victims, because now they feel like they own them. Ortralla Mosley was out of the relationship, but obviously her ex-boyfriend, Marcus McTear thought the opposite. When your in an abusive relationship you might feel that its safer to stay in an abusive relationship, then to leave. However there is a lot of ways to leave such a situation and still be safe. There are
many measures you will have to do, but in the end it will be all worth it.
If you live with your abuser:
Know your abuser's red flag.
Identify safe areas of the house.
Be prepared to leave at a moments notice.
Practice escaping quickly and safely.
Come up with a code or word.
Make or Memorize a list of emergency contacts.
Keep change and cash on you at all times.

Also remember do document all abuse for your safety. You should take photos of any injuries. If you was abused in public, ask witnesses to write down what they saw. Last, but not least, don't hesitate to call the police if your abuser has hurt you or have broken the law.

Broken Puzzle
"Our biggest fear is not that we are inadequate, Our biggest fear is that we are powerful beyond measure, We ask ourselves, who am I to be brilliant, gorgeous, talented, fabulous? actually, who are you not to be? your playing small doesn't serve the world
we are born to make manifest the glory of God that is within us and as we let our own light shine we unconsciously give other people permission to do the same"
-Nelson Mendela
Women need to learn that men are not what they need to be strong. They can be there own individual self no matter what. We are strong, and will always be strong. Now we pick up the remains' of our broken puzzle, put it back together, and keep on moving.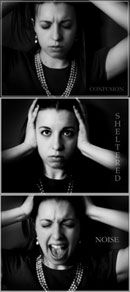 © Michelle B., Blairsville, GA