Happy
April 18, 2018
"What do you want to be when you grow up?" they asked me.

"I don't know" I admitted, yet from the age of three, I knew what I wanted to do: music. Then why am I doubting myself? I thought that I had my life figured out, but life isn't a test with an answer key, it's a fill in the blank test that I have to write myself. I truly believed that I would continue acting, sing, and being a "drama kid" for the rest of my high school life. It was my passion after all. It wasn't until I started to get this kind of practical mindset that I changed my mind. "You'll never make it," they repeated, "You'll end up a failure," they told me. At first, I didn't believe them, but I felt their pressure, like a hard invisible wall closing in on me, suffocating me. I thought that they were just haters and people that wanted to stop me, but then, I started to think: What if I fail? What if I'm not good enough? And I started believed them wholeheartedly. I can feel the tears caress my cheeks as I realize that I've almost given up. I understand I'm giving up and I'm just not doing anything to stop it. It makes me want to yell at myself in a mirror. I'm letting the water leak through the dam without trying to patch it. But maybe I'm meant to be a raging river. Maybe I'm not. No one, not even I, will know until it's done until I'm dead and my life is just a story to tell. I want it to be a good story. I want it to last. I want to make an impression on this earth, but doesn't everyone?

It's so hard to think about myself and my life for too long because it makes my head pound with a concoction of swirling emotions. My life has these illuminated paths that I can visually see in front of me. The paths unfold in front of me, leaving me at an intersection of the future. I see the paths for writing, mysterious and hopeful, the path for science, cold and new, and the path for music, familiar yet daunting. My dad has always told me that no matter what I do, I should be the best at it, but what if I spread myself out so much that my energy is wasted? These doubts are the things that keep me up at night. It's when I come home after school and grasp my guitar like it's my lifeline, I start to wonder. When I write my passions like I'm emptying my soul, I start to wonder. When I ask questions about the workings of the world, I wonder.

"You should be a writer," she proclaimed. I just looked down and shook my head. What about my passion? Even if I decided to become a writer, it would be just as difficult to get a good job as the others. It makes me wonder if life is all about the money. If I'm happy, shouldn't that be all I need? People tell me otherwise. They tell me, "You have to get a good paying job to be successful," and success equals happiness. Right? I see all of these successful people around me who just did what they loved and became famous for it. I want to be like them and I feel like I could do it sometimes. Other times, I ask myself, "Why would it be me? Me, out of millions of people." When it comes down to the heart of it, the only thing that would make my life a good one is love and happiness. Isn't that what life is worth living for? Why do we complicate things so much and make life about material goods and bragging rights instead of what's good for ourselves? We have to stop questioning ourselves and start following our intuitions. We have to ask ourselves, "What makes me happy?", and we have to just do it.
They ask me again, "What do you want to be when you grow up?", and I look into my heart, trust myself, and say,

"Happy"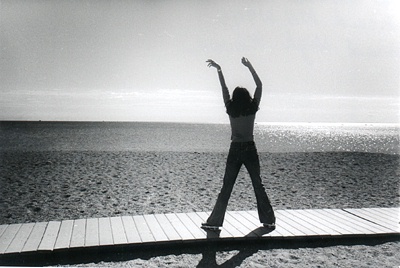 © Colleen F., Marblehead, MA