Students Who Play Instruments perform Better in School
December 9, 2011
Do you play an instrument? How are your grades and behavior? Believe it or not, these two things are connected! So if you aren't involved in the performing arts, you might want to take up music! It improves brain stimulation, supplies you with important life skills, and brings down your stress level! Student musicians are proven to score better on big tests like SATs, get into better colleges and stay out of jail. Don't believe this crazy claim? Read on!

The Three Domains of the Brain
Your brain is made up of three main domains! These would be the cognitive-knowledge, the psychomotor-skills, and the affective-feelings. In an interview with Middle School band director Andy Brinkman, he says "band is one of the few subjects that uses all three of these domains at once." While you're playing an instrument you have to read the notes, move your fingers and arms, and feel emotion from the music you are playing.

A Few Facts About Student Musicians
•
Student musicians score an average of about 62 points higher on their SATs than non-musician peers.
•
Kids who are in orchestra or band have the lowest levels of current and life long alcohol, tobacco and drug abuse.
•
Band and orchestra students have higher GPAs than kids not in band or orchestra.

Interviews Anyone? Let's Talk to the Teachers!
You can research a topic on the internet, but the best way to get accurate information is to talk to experts in the field you are learning about! I interviewed an orchestra director, two band directors, a general music teacher, six core subject teachers and the assistant principal in charge of discipline at my middle school, Fall Creek Valley. All of them said the same thing "yes, playing an instrument makes you a better student." Here are some of the interviews below!

Interview with 8th grade science teachers Amy Mitchell and Sharon Figura:
Me- Would you say that your students who play instruments are better students than those who do not?
Amy: Yes, those who participate in the arts have better grades. Many of my Science Student of the Year kids have been student musicians. They also tend to get their homework done on a regular basis more.
Sharon: The students who play instruments do better academically and disciplinary, no doubt.

Interview with Ellie Scott, Ball State music education student and Andy Brinkman, Band Director
Me- What life skills do you believe playing an instrument gives you?
Ellie- Teamwork, discipline, respect, confidence and much more.
Me- Why do you think playing an instrument statistically makes you a better student?
Ellie- Music is very influential. Your whole brain is activated while you are playing an instrument. It is multi tasking to the extreme.
Andy- Your brain has three main domains, the cognitive, affective and psychomotor. Only playing an instrument uses all three of these at once. When you're doing math, you use the cognitive and maybe psychomotor. When you play a sport, you use the psychomotor. By exercising all three in band class, it generally makes you better at other subjects that use these domains of the brain as well.
Hear it from the experts!

Boosting Self Esteem According to Beth Luey and Stella Saperstein, the authors of The Harmonious Child: Every Parent's Guide to Musical Instruments, Teachers, and Lessons, learning to play any musical instrument boosts self-esteem. When you play an instrument, whether a beginner or an expert, you experience the sensation of doing something entertaining for yourself and others. As you learn additional skills that allow you to play well, your self-esteem increases as you discover that you are able to reproduce musical selections on your instrument.
Enhances Learning Luey and Saperstein wrote in their book that playing a musical instrument can help boost your academic performance! When learning to play a musical instrument, you are exposed to rhythm and counting that can help improve your understanding of many different subjects, particularly the concepts presented in math. Music can also improve your study skills, attention to detail and ability to memorize and repeat important facts.

Team Building When you play an instrument, chances are that you perform with other kids who are both older and younger than you are. Playing music as a group builds a sense of community and enables you to feel as if you belong to something bigger than yourself. Working on playing music in harmony with other people will help you learn about working as a team and will motivate you to work harder so you don't let your peers down. Cooperating for the purpose of a common goal is a skill that kids need as they get older and playing a musical instrument does just that.

Playing an instrument gives you important life skills, improves your ability to comprehend information, gives you better discipline and higher grades! Starting to have second thoughts about being an "ork dork" or a "band geek"?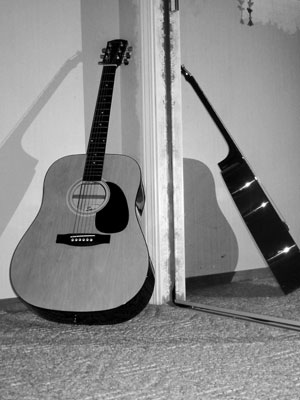 © Dylan F., Belleville, MI