Labeled Gorgeous
October 31, 2011
It all became real the day I found my best friend, Jane, slipping pill after pill through her thin, quivering lips. She was trying to open her mouth just wide enough to fit them in, while her tear-drenched cheeks whithered up in pain. Jane was disgusted. Disgusted by her eyes, her nose, ears, lips, hair; everything about her appearance. In Jane's mind, she was type ugly, and there was nothing she could do about it. This was her only way out.

Each morning before she'd go to school, Jane smothered her fresh face with a layer of cover up. Suddenly, all her "imperfections" were gone. A layer of foundation followed. Next, Jane coated her eyes with bright, shimmering strokes of color. To make her eyes look brighter, she'd tell me when trying to justify her reasoning. Next, she'd move to "eye definition" by lining her lids with a thin stripe of black eye liner. "It makes my eyes look bigger," she'd say to me. Then came a series of splashes of pinks along her cheeks, defining her cheek bones. Lastly, she'd finish off her transformation by sliding a sticky coating of lip gloss across her lips. Pucker up, Jane; she was now ready to face the world. But was she really? At the moment, with her face freshly painted, she was hopeful. Her self esteem was high, her face smiling as she looked herself over once more in the mirror. But the moment she stepped out of the house into the unmerciful hands of this judgmental world, her hope would soon fade away, leaving nothing more than a scarred, teenage girl.

Recently, I've been thinking about why so many teenage girls feel insecure about their bodies these days. Once I started searching, it didn't take long to find my answer. The media is to blame. It is a demeaning, degrading, abysses of criticism which sucks in teenager girls like a vacuum. This was the core source. Don't get me wrong, the media is a great source of entertainment and contributes vastly to the social dynamics and culture of the world. However, when it comes to the self image of an average teenage girl in this country, it does nothing but destroy.

Next time you pass by a magazine counter, take a closer look at what each cover is displaying. What are those models telling the youth of today? Those faces speak deep into the lives of young girls, telling them that if they fall short of that image, they are not "beautiful." What people however, have become increasingly aware of is the fact that those girls aren't real. Those faces, labeled gorgeous, that line magazines, bill boards, advertisements, were probably photo-shopped, changed and rearranged over and over again.That doesn't matter though, to the 14 year old girl smothering make up across her face, trying to live up to the standards of society, influenced by the media.

Would this really be enough to make someone want to commit suicide? Yes. It happens everyday someone fails to live up to their full potential due to lack of self esteem. Each time a girl shies away from leadership in her society, or fails to truly shine the way she was meant to because she feels her face would be better unseen. So as Jane sat there, ruined from the criticisms, critiques, and constant feeling of failure every time she looked in the mirror, I thought to myself, what's disgusting wasn't her face, but the media which tells our youth these lies. That they must look picture perfect to be beautiful and beautiful to have power. That couldn't be more far from the truth. It's not the vast array of beauty products strewn across their face, but each person's individual spark, their unique glimmer that shines through, the confidence in who you are. That's what, in my opinion, it really means to be labeled gorgeous.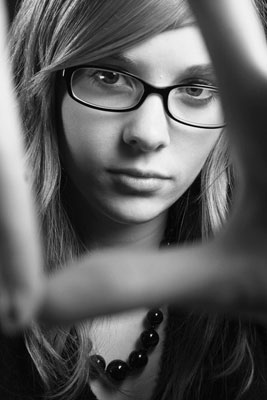 © Marina S., Vineyard Haven, MA