It's Time to Make Education a Priority
September 7, 2011
Why are America's children so overlooked? Funding for public education should be one of the highest priorities in each state's budget. However, each year our public education system experiences greater cutbacks than the year before.
At my highly rated high school, the lack of basic supplies is astounding. For example, there is not enough printing paper for the teachers to produce handouts, tests and other materials. To overcome this problem, some teachers have gotten creative by having students bring in reams of paper for extra credit. A few weeks ago, the school held a pep rally, and the "admission fee" was a ream of paper for any student who wanted to attend. Fortunately, many students in my high school can afford to contribute the paper and other supplies. However, in less affluent schools, it is likely that the schools must go without these essential items. This lack of funds for necessary items is interfering with the learning process.
Last year, a senior organized a school paper drive as a community service project. With the help of individuals and businesses in the community, she donated many reams of paper to the school. Wouldn't it be beneficial if students did not have to create service projects to provide their own schools with necessities, and this student could have instead devoted her time and effort to help the homeless or the hungry?
Another universal problem in education is that teachers do not get paid what they deserve. Most teachers work in the classroom 7 to 9 hours a day, 5 days a week. They also spend countless time outside regular school hours planning, grading, and staying late to offer extra help to struggling students. While athletes and actors make millions, the average teacher in my state earns approximately $50,000 a year. Entertainers will always receive outrageously large salaries, yet it is disgraceful that our teachers can earn barely enough to live comfortably.
Budget cuts that have affected my school have also resulted in the elimination of team bus transportation to sporting events, and materials needed for fine arts classes such as ceramics. These are important components of a child's education, and help to produce well-rounded individuals who benefit from learning more than academic subjects alone. Cutting back on these items is a great disservice to the students.
It is so unfortunate that the United States fails to make education a priority. Maybe lawmakers will one day soon listen to the pleas of students, teachers and parents, and invest in the future of America's children.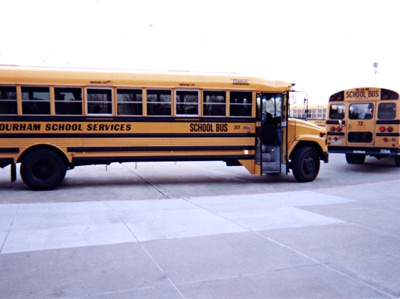 © Blake B., Highland Village, TX