The Unknown Actors
April 15, 2010
The alarm clock rings. It's the beginning of a new day, one more day, and same lie. I throw on a tank or two, and slip into my uniform. I grunt as I take the steps to hell and walk towards my worst enemy, my mirror.

Step one, make crude jokes about yourself. Step two, grab your shiny chocolate colored purse and dig through it until you find your make-up bag. Apply thick eyeliner, to hide the dark circles, Mascara to attempt to highlight those formally called beautiful eyes. Grab some lip gloss and to try to make yourself look pretty. After that fails, repeat step one. Step 3, tilt your head back, grab your hair, and twist it into a high pony tail. Then cover half your head with a thick headband. Repeat step one. Flash your posed smile. What to do next? Repeat step one. We don't want you thinking that you'll actually be happy.

It's kind of ironic. The girl voted "prettiest smile" and "fun to be around" and turned out to be faking the happiness the whole time. So the people who really were happy and smiled for real just got screwed over. But I mean, who do you know that's truly happy? Who do you know that isn't? How do you know it's not all an act? We might not be on freaking Disney, but we're some of the best actors in the world. I like to call us the UA's, unknown actors. But no one has a clue, that's what makes the UA's so unique.

I suppose you're wondering who exactly "the UA" are. UA's are the girls who can find pieces of fat others would say were not there. The UA's are the ones with their fingers holding the end of their long sleeve sweatshirt, squeezing the hell out of it, to keep the scars from showing. The UA's are the ones who "ate before I came", but I dare one of the we's to look someone in the eyes and say that. The UA's are the ones with a pharmacy in their purse, and the pills, aren't exactly for cramps. The UA's are the ones who can't help but wonder who is a UA, looking at every person around, giving them the quick up-and-down, wondering, deciding. But if you're really a UA, then another UA won't know, because the unknown actresses, must remain unknown. And if you're one of those people that goes and tells the world about your issue, no, you're not a UA, you probably just want attention, a UA girl keeps it secret. But hell, if everyone's got a secret, might as well make yours interesting.

So tell me, that girl with the perfect body, perfect hair, perfect family, we all know one, but is she a UA?That best friend of yours, the one you've known forever, know everything about her, is she a UA? Most importantly, are you?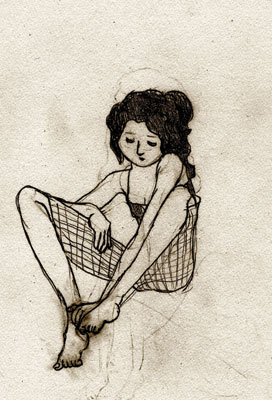 © Samantha W., Albany, NY