Alternative Energy
MAG
As the world becomes more polluted by fossil fuels, we need to look for alternativesto these non-renewable resources. Many alternatives exist, but have disadvantagesand drawbacks. After consideration, it seems to me that solar energy is the bestalternative source for future energy. Over the course of the next century, solarenergy will definitely have an impact on the world energy market.

Solarenergy is the most abundant form of energy known to man. The sun releases energyat a rate 15,000 times greater than the rate the earth uses energy. This is good,because the world is more and more power hungry. Solar energy can be used toproduce clean, cheap electricity in amazing amounts.

In the early 1990slower prices for fossil fuels, coupled with government subsidies, helped makefossil fuels appear more economical than renewable fuels. The United Statesgovernment, however, hoped to develop new technologies so they launched afrenzied research and development project headed by the Department of Energy.This research has begun to pay off because of lower prices for light- andheat-collecting solar cells, as well as higher storage capacity of thosecells.

An interesting fact about solar cells is that they release far lesspollution than fossil fuels. With lower emissions, the greenhouse effect can beslowed and global warming nearly stopped. These advantages are reason enough tobegin building solar power plants, but, in addition, the price for solar plantscontinues to drop, and fossil fuels are being depleted so the prices for coal,natural gas and petroleum will rise and thus create a level "playingfield" for energy resources. Speaking of locations, many power plants exist,and currently over 900 gigawatts of electricity are produced every year by fossilfuel plants that could be produced by solar plants.

One argument againstsolar power is that the cost of the initial start-up, which includes all thesolar panels and the building of actual plants, is too great. This cost, however,is justifiable because after start-up, the plant requires almost no maintenance,clean-up, or dumping of waste, and the sunlight ends up not costing a penny.After a year or two, a solar plant can practically pay for itself.

Experts from the United States and Canada say solar energy will play a part inchanging our lives in the twenty-first century. As solar use increases andemissions decrease, solar energy and other alternative fuels will supply more andmore of our electricity.

This century looks as though it will see theworld change by leaps and bounds in many aspects of daily life. Energy generationis one important aspect. Instead of polluting with fossil fuels or dumpingnuclear waste, we will power our homes with solar energy, the safest and cleanestenergy source known, and its use will only continue to increase in the future.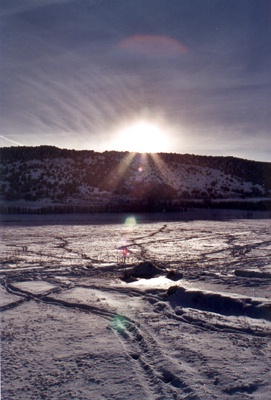 © Brandon T., Manila, UT