Talking to Thin Air
June 1, 2013
For years, I have always been told that everything happens for a reason. In every conversation I have ever had, the name God always seemed to be the main topic for at least half of those conversations. Everywhere I turned, there always churches, crosses, bibles and preachers that were always spreading around and talking about how we are all "God's" children and that he loved everyone no matter what. Well, I never saw God's reason for making me live my life the way it has been.



For as long as I can remember, I have always noticed that I have always been…different. When other girls wanted Barbie dolls, I wanted skateboards. When my best friends wanted to go shopping at the mall, I wanted to stay at home and play video games. If I ever had to be in a situation where I would have to dress somewhat formal, I would just wear a button up shirt.



So far, I have been bullied for ten in half years because of my differences. I would pray all through elementary school, hoping God would help me out, or show some sign that everything was going to be ok. I would pray almost four to five times a day just to keep some peace at mind. After five years of beatings and insults, I finally just gave up.



I no longer pray, go to church, or even look at a bible or cross. I get bullied even worse now that I no longer have faith. Every now and then I would hear people mumble under their breath, "Satin Worshiper." One day, I was in one of my classes and I was having a religious discussion with one of my close friends. There was a guy who was eavesdropping on our conversation and spat out across the room. "Wait! You're not a Christian!?" I couldn't lie and say that I was a Christian, so I just simply answered, "Not one bit."

"You're SATIN!!"



I still remember how hot my cheeks felt, the anger that was built up inside of me, and the urge I had to just run out of the room and get as far away from everyone as possible. I balled up my fists and I blurted out without even thinking, "Well, it's better to have kind atheists than to have hateful Christians like you!" After that, that kid never called me satin, sat near me, or even looked in my direction.



What I find strange, is that even though I do not classify myself as a Christian, others say that I show actions of Christian teachings. When I would take as many hits from my bullies, I would just turn the other cheek. I accept everyone for who they are. I would give to others before I would give to myself.



I remember a saying from the bible that was always stuck in my mind ever since my first day of Sunday school, "Love thy neighbor as thyself." I never understood how the people around me could be real Christians when they couldn't even follow one thing that the bible says. I have one teacher and possibly four to five friends who are what I consider to be "real Christians." It's kind of sad how out of the billions of Christians in the world, there are only five or six people I personally know that can be called "True Christians."



I always wondered why He was never there. Why did He never helped me in my time of need? Why did He never answer my prayers? I guess it had to take blood and tears to finally realize that I was just talking to thin air.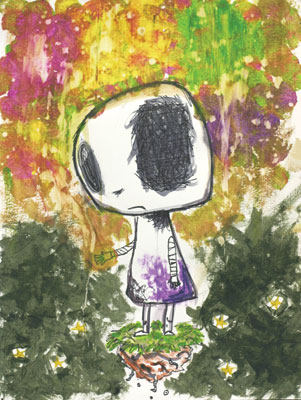 © Ashley W., Port Charlotte, FL