Stand Up
April 3, 2013
Tears are coming down your eyes because somebody called you fat. Tears are coming down your eyes because somebody punched you in the eye. Tears fill up the victims eyes because that's all they can do. What are the teacher's going to do. Say what did you do to start them? What did I do? I did nothing but you are the one who gets in trouble because it always seems like the bad kids who bully people are the teacher's favorites.
Bullying is something that kids live with. It is all around us. I think everybody in the world has been bullied but that does not mean it is okay to do. Bullying sucks. Okay it does. People threating you and you are just standing there doing nothing because if you say something back to try to stand up for yourselves the teachers might say you are no better than them. It is funny cause I got bullied for five years. I had this thing I would be nice to everybody but that didn't work because I still got picked on. I tried to get back at them but I only got in trouble because I was like the bad kid who everybody bullied. But you know what I learned to keep my mouth shut is not going to cut it. So I learned to open my big mouth and say something about it. Bullies are just trying to show everybody that they are the strongest and nobody can beat them. You can beat them if you ignore them is what most teachers would say. I say stand up for yourself. Stand on a table and scream at the top of your lungs you are a bully and I am not going to be bullied by you anymore. Don't start calling them names but say that and say it proud.

Kids are to scared of what that big bad bully can do. What is he going to do? This is your life so take control and don't stand around crying cause somebody is bullying you. Stand up for yourself and stand proud because you are showing that bully that you don't want to be bullying. When teachers are around they say don't do that just ignore them. They are not going to stop being rude to you because you are ignoring them. Stand up for yourself.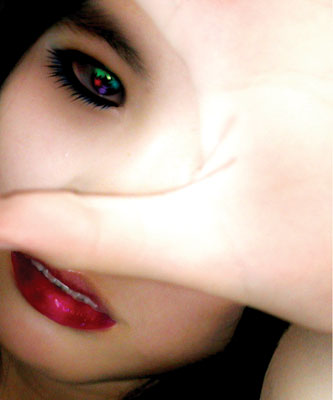 © Victoria W., Arcadia, CA