You and Her
February 28, 2013
There's this girl.
The first thing you notice about her is the fact that she's disarmingly pretty. I mean, you notice, but you don't. It's not like you see her and that thought is what hits you in the face. It's more subtle. More soft. Like a pillow to the face instead of a brick.
The second thing you notice is her hair. It's a dark, dark brown, so you assume it's black until you actually are up close enough to see it. Up close, it's definitely brown. Pretty, too. Sleek, soft, glossy.
Her eyes. That's the third thing. Big brown eyes, the color of amber sea glass that you find on the beach. They're bright but dim at the same time. Have you noticed how they seem to flicker from dark to bright brown. Like they're reflecting her mood. Maybe they are.
So, she's pretty. But only slightly.
But there's something bad about her.
She's ugly. Terribly, terribly ugly.
When you see her, all you can see is acid and flesh eating butterflies and ugly, hideous things.
Not on the outside. We've already talked about what she looks like.
On the inside.
She is so, so ugly.
You feel bad for her, because she is so mean. You know, because she's rude and cruel and seemingly sadistic, in some sort of way. She's evil, like a witch.
So it doesn't matter that she's pretty, in her disarming sort of way.
Looking into the mirror, tears on your cheeks, you stare at your reflection––her reflection––and realize just how ugly she really is.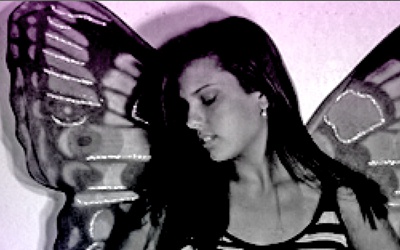 © Kathleen M., Rowlett, TX