A Letter to Burn
January 25, 2013
Hey you. Yes you. You say a lot of crap that hurts me. You can't have a conversation with me -or anyone else for that matter- without handing out insults the way some people hand out gum -a nonchalant, careless way that says that you don't have to care even when you cut me.

At first, it was nothing but a mere nip with the tip of your blade, it hurt, but only like a finger-prick - suddenly and easily forgotten. My wound healed, leaving only a small, red mark. Then you cut me in that same place some more times, and I got an ugly scab, but still -it wasn't worth mentioning, was it? You're still my friend and I still love you, don't I? Then, after many months, I had an open gash in the middle of my soul so deep that only I could feel it and suffer from it. You didn't even give it the chance to fade away into a scar, you went on and on and on until I got tired. Just oh, so tired.

And I decided that when people are tired, they fall asleep. So I took pills to help me sleep, and then I needed more and I couldn't stop.

But you could have. You could have stopped whenever you wanted to, and yet you didn't. And I've put up with you for long enough. So I decided to make your cuts visible, maybe someone will see it, maybe someone would understand.

But no one did.

So tonight I decided to cut my last cut. To make it final. To write this note to you. This letter is not to make you feel better about yourself tomorrow when I'm gone. This is a letter to burn you. To remind you that I won't forgive . Or forget.

You told me to go to hell, so I did.

I'll see you there.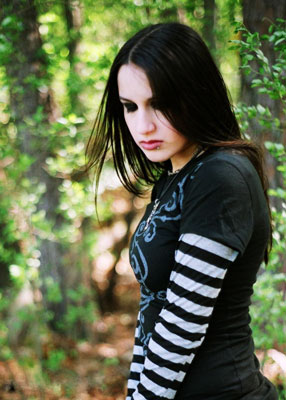 © Rebecca B., Marietta, GA