The Monsters In This World
January 12, 2013
Pushing to dismiss the giggles and whispers, always smiling so they never see me frown.

(She's so strange, she deserves everything coming to her.)

Home life, self-loathing, taunting from school, all these emotions. No escape, no release.

(Look at her, she's always so miserable. She's so weak, so vulnerable. This will be easy.)

Hold it together, don't break. Only 3 more hours to go, don't let them see you cry.

(Did you see her face when we pushed her food onto the floor? Priceless. She's basically anorexic anyway, she wouldn't have eaten it.)

Nowhere to go, nowhere to run. I can't hide, I can't stop this. I deserve all of it. I'm worthless.

(It's May and she wore a sweatshirt, she's so ugly.)

She made me take off my sweatshirt for gym, they all saw my cuts. They all laughed.

(She's so stupid, she shouldn't be cutting unless she cuts deep enough to end it all.)

Not enough release, not enough blood. I'm starting to take more than prescribed.

(We messaged her anonymously and told her to kill herself. Let's see how far we can go until she cries.)

1 pill, 2 pills, 3 pills, 4. Just enough to put me to sleep.

(She wasn't in school today, what a wimp. She probably cried all night to her mommy.)

Hospital lights, nurses and doctors, something about no more medication.

(We finally scared her away. We left notes in her locker for when she comes back. Hopefully we'll get to see her face when she opens her lockers and sees them.)

Inpatient, unfamiliar faces. Depression, anxiety, all the people so nice to me.

(There's a new rumor we started that she's pregnant. She probably aborted it, she's worthless, she could never raise a child.)

Weeks pass, I'm discharged home. Terrified of going back to school, terrified to breathe.

(We asked her if she kept the baby or not. She looked mortified. High fives all around. She ran out of class.)

There will never be enough medication in the world to stop the monsters in this world from tearing me down.

There will never be enough kind words to stop the hatred from seeping through.

There will never be enough love in this world to shield out the hate.

I'm too vulnerable to survive in a world of such hideous creatures.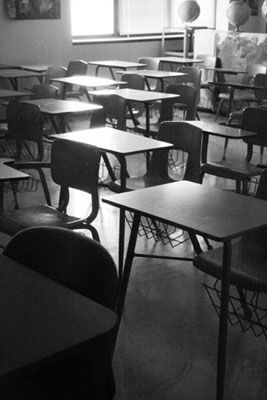 © Sean C., Princeton, IL