Friends
November 3, 2012
I have always been friends with guys. My best friends, and past best friends, were always girls. Guys, I think it's easier to just hang with. They are just don't care about school drama, I guess. But some girls are more serious and trusting and supporting and you just need one. My guy friends couldn't do the job my best friend does. They would make it a joke.

But guys won't turn around and talk about you. You can trust them. Just there are touchy subjects with them. Feminism for one. They can't take that much intense stuff. With out joking about it. The guys always say they worst thing at they worst time, and it makes you smile.

Why are normal girls so, catty? Only God knows. Experience tells me they need to be dominating. But even the betas are mean and nasty. Snappy is a word for it. Always fighting for the upper hand. And they won't break a heal in the process.

I wonder what they write down when we do bullying prompts on writing class..? Maybe they create some sort of sob story to make the teachers sigh, saying, Oh I didn't know this bullying problem was so bad..

Its crazy. But crazy equals someday into life. Just keep stepping I guess.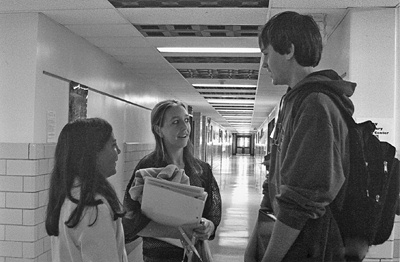 © Kathryn K., Pompton Plains, NJ