Bullying
May 29, 2012
As one grows older, she expects the bullying to stop, but it never truly does. From the years of running around a playground being teased, to high school being tortured by the stares while walking down the halls and the rumors being spread about, to college where it can be like high school all over again; bullying exists. It is a struggle that many go through yet not a lot of people know about. It is not something that can always be seen on one's face, but it is an internal pain that becomes difficult for an individual to deal with. It can take over one's life and be a preoccupation that she is always focusing on. While trying to keep her grades up and be positive about the life she is living, there are people bringing her down to the point where she has come so far from.
Bullying is an everyday struggle that needs to be addressed in all institutions; from the bottom to the top. A movement needs to begin where students and people of all ages, genders, and ethnicities, come together to fight this thing. We need to help students learn when they are being bullied and allow them to realize that they are not the cause of the problem. Bullying is all about power and the control an individual can have over another. By students being bullied acknowledging this, they are able begin the process of regaining their control in the situation.
Once the student understands that it is not her fault, a program needs to be implemented in schools that creates a safe haven where students are able to go and talk with someone about their problems. Safety is one of the main concerns in bullying for the children being bullied. There is a fear that has developed within them and they feel that they have lost control. A hotline or an after-school program should be developed for students to be able to go and talk with someone about what worries them. Many think that the guidance counselors in school are individuals who are able to be confronted with these problems, but it is still a place that is in the open and does not provide any more safety than the classroom. By implementing a program that has private moments where students can talk about their concerns will provide a safer environment.
All schools have the means to enact programs to help with bullying and they also can help the situation by being stricter with the rules of the school. By having a zero-tolerance anti-bullying policy, they can create a safe environment for the students and members of the community.
The act of bullying is a continuous cycle. Until something or someone puts a stop to it, the cycle will continue. By coming together and creating a movement to stop the bullying, it will allow for more children to succeed in life and discover how truly important they are in this world.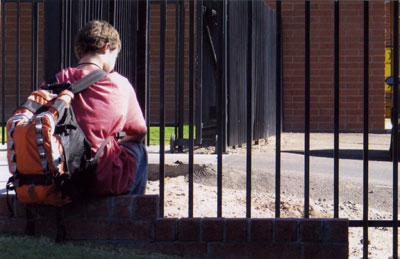 © Molly L., Phoenix, AZ