It's always darkest just before dawn
May 28, 2012
No matter what, once in your life someone will hurt you. That someone will take all that you are, and rip it into pieces and they won't even watch where the pieces land. But through the breakdown, you'll learn something about yourself. You'll learn that you're strong. And no matter how hard they destroy you, you can conquer anyone. "Some people won't be happy until they've pushed you to the ground. What you have to do is have the courage to stand your ground and not give them the time of day. Hold on to your power and never give it away." (Donna Schoenrock).
"We kill all the caterpillars and complain there are no butterflies." (John Marsden). It's very hard to find yourself in a world so centered around perfection, but in reality it's imperfection that defines us. They tell you to be yourself and then they judge you. It's not right. We're all judged on what we wear, which music we choose to listen to, what we look like, how we act, who we hang out with, and on basically every other imperfection about ourselves. No one has the right to judge you. Everyone has their own story, a reason why they're the way they are. Everyone is fighting their own battles.
Here's the funny thing though, nobody really knows how much anybody else is hurting. We could be standing next to someone who is completely broken and we wouldn't even know it. We only see things on the surface. We all know people who are really quiet and keep to themselves. Instead of just staring and making rude comments, how about you take some time to say "hi" and ask them how they are. For all you know, you smiling and saying hi, could be the best thing that has happened to them all day.
Saying mean things does absolutely nothing. It's not right, period. Calling someone ugly doesn't make you any prettier, calling someone stupid doesn't make you any smarter, calling someone fat doesn't make you any skinnier. So what's the point? Just because someone isn't your definition of beautiful doesn't give you the right to call them ugly. What truly is ugly is insecurity and judgment.
We always blame society, yet we ARE society. To make this a better place, we need to change our ways. So for now, talk to each other instead of about each other, smile and let everyone know that today, you're a lot stronger than you were yesterday.
"It gets better. It seems hard, you know, I think being different is always gonna be a tough climb. There's always gonna be people that are scared of it. But at the end of the day you give those bullies, those people, that are so ignorant, if you give them the power to affect you, you're letting them win. And they don't deserve that. What you're doing by being yourself is you're keeping it real, and you're being really brave." (Adam Lambert).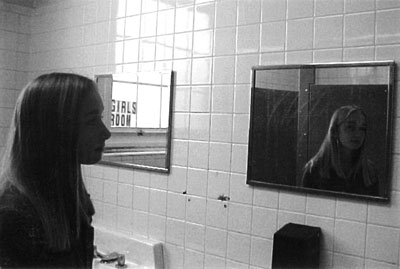 © Jill H., Pompton Plains, NJ