Shadows
May 24, 2012
It's about time the nation as a whole started taking serious action against bullying. Unfortunately, those that are finally paying attention may not be any help at all. In reality schools and the government have no true capability of effectively fighting this problem; they don't have the means to change a culture. Only children and teenagers can spur this change. An example of this is shown in Franklin High School of Somerset New Jersey. My drama teacher started a club called Applied Theatre and charged the members to tackle an issue within the community through theater, with dance and multimedia aspects added in. We decided that the first issue we would tackle would be bullying.

The biggest obstacle administration and legislation face when attempting to combat bullying is labeling as "bad." When this is done, bullying simply becomes another one of those things that teenagers aren't supposed to do. Teens are rebellious by nature so labeling bullying shows the same effect as endorsing it would. As a group, our top priority was not to make the play we created another school assembly like the ones saying "Don't Do Drugs." So we made surveys with numerous questions about peoples experiences as a bully, victim, or bystander and distributed to our school. Shockingly, we received nearly 700 back, approximately 70% of the total distributed. Using these surveys, a few follow-up interviews, and national stories (including Tyler Clementi who went to school fifteen minutes away from us), we drafted a script that would become our play, Shadows.

Shadows showed the perspectives of victims, bystanders, and bullies. But rather than creating situations, the play used actual experiences. In this way it didn't target bullying, but showed the reality of it. And it made an impact by gaining statewide recognition, including various awards. For the cast, the awards were irrelevant. What satisfied us was students at our own school and other schools thanking us, telling us they no longer bully or their being bullied stopped. The most ironic part of Shadows is that all of the members of Applied Theatre were skeptical it would have any affect.

If adults want to help spur social change, they must encourage and allow teenagers to lead the charge. They must fight the skepticism in young people that nothing can be done rather than trying to do something themselves. Teens are much more inclined to learn from each other than to listen to an adult's rules. Most importantly, it must be remembered that bullying is never black-and-white. Society cannot start condemning all those who have bullied because almost all people have at one point in their life. Likewise, not all fighting or teasing is bullying. Believe it or not it, many teenage friendships include elements that may not seem appropriate to older eyes, but are completely harmless. Overall, the passion behind the nation's anti-bullying campaign is honorable, but adults must let teens lead the charge. Only teenagers can effectively change the culture of their peers.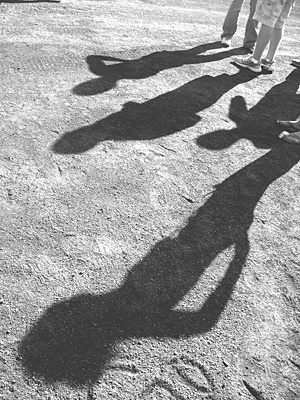 © Trella R., Mountain Lakes, NJ