I Speak for the Children
April 30, 2012
To most teens, the main goal in life is to be accepted and wanted. Being in the in group is much more pursued for than, being an individual diplomat, and thus begins the discrimination. As children of the 21 century, we consider ourselves worthy of acceptance. Though some of us go about that by working hard and being ourselves, other children of more popular status have manipulated the bars to deem us unworthy of acquiring that praise. It seems that in the last couple of years or so, the likeliness of bulling in our Society has increased rather than decreased, children each day face forms of this persecution, either conscience or unconscience about it. We ask ourselves, When will this end? and the answer is quite simple, but we have to be in this together in order to end bullying and discontinue the injust bigotry in our school stems.



Bullying has made itself known in many forms that it's hard to know when to classify it as bullying, with no pyhsical evidence, verbal and cyber bullying have become the new thing. In the 2012 National Survey on Bullying, verbal and cyber bullying were nominated as the most common form of this harssment. It seems to be that along with the advancement in technology, comes advancement in the bullying form, non- face to face contact has gone as far as slightly eliminating the chances of pyhsical bullying. Culprits that prey on the innocent are much more protected online, their identity is kept safe, and they can threaten and harm without having to worry as much about being caught. Verbal blusteration also acquiesces itself as a safe domain for them, there is no way to point a finger , unless there is a witness, usually, that is taken care of easily. Seeing as to how there is no way of truly protecting children from these two forms of harrasment, adults have not even considered conjuring an alternative.



"Get and adult" those are the words spoken so often in times of immediate danger, but we should begin to question if this really is the right thing to do. The 2012 National Suvey on Bullying showed that a high 70% of schools effectivly address bullying issues. Though when asked if their schools' experienced an increase or decrease in the number of bullying related incidents, 47% claimed it remained the same and 31% said in increased, only 22% decreased. I support this fact. Being a student myself and currently finishing my time in middle school, I have have not seen any changes, even after conversing in the effects of bullying, there are many who are still hurt each day. I along with the 92% majority, think that more staff traing is needed on bullying related issues.



Thus, we can conclude that the issue on bullying will never truly depart from the human race. But we can, together learn more effective means on delaying it. Bullying hurt everyone. It's time we learned to confront that.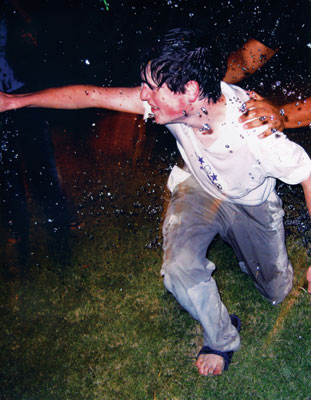 © Caroline H., Stephenville, TX