Be Who You Wanna Be-Not A Barbie Girl
November 5, 2012
"The first ten years of a girl's life are spent playing with Barbies and the next ten years are spent trying to look like one."-Anonymous


Ironically, my past experiences with Barbie dolls were not very pretty. I specifically recall joyfully stripping them of their designer clothes and attaching their perfectly amassed blonde-hair to activated fans. I then established my own style, specifically designated for Mattel's collection of models; this original fashion sense predominantly consisted of drawing on their faces using different-colored writing utensils.

Even till this day, I refer to Barbie as nothing but a plastic doll. Despite the fact that she is a materialistic object, she represents modern society's unrealistic, high standards of a female. Nowadays, a girl or woman considered acceptable directly reflects the appearance of this best-selling children's toy. In other words, women who yearn to be tolerated or influential in today's civilization, especially in the area of media, must attain blue eyes, blonde hair, extreme slimness, unachievable curves, tall height, and evident breasts. The portrayal of Barbie's physical features is so impractical that when all of the calculations were inflated to produce a living woman, records proved that she would have anorexia and be incapable of menstruating.

Point is, teenage girls around the world continue to make endless attempts to look like a carbon copy of a stupid figurine when their lives are at risk. Hair dying, dieting, not eating, breast implants, and plastic surgery are all common processes that females are obligated to endure if they desire to be Barbie. Not only do these behaviors result in girls and women seeming foolish, they support feminine vulnerability and insecurity, a stereotype I refuse to fall for. Girls do not need ridiculous medical alterations in order to feel better about themselves.
One of the major reasons why they have the urge to inflict changes on their body is because of pressure. I am a girl in the western world. Thus, I have faced this burden. I have profoundly stared back at my image in the mirror and encountered doubts about my natural self. However, I have chosen to put it aside and ignore it.

Unlike millions of girls around the globe, I am okay with my body image. When I look in the mirror, all I can hope to see is me.

So be happy with who you are.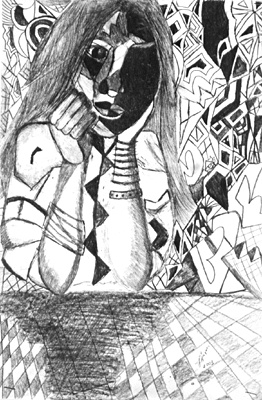 © Joy H., Kannapolis, NC