You Are Beautiful
July 10, 2011
Why are so many girls starving themselves, dieting and even sticking their thin twig-like fingers down their throats after they have eaten "too much". Why can't girls just accept who they are and be happy with it? You may not realise it but you are beautiful. And to that one person who calls you fat, who cares? You should love your body, because if you don't then nobody else will.

We grow up in a time where everyone we look up to is skinny and beautiful. Models are size zeroes, their skin is perfectly smooth, and they never seem to have a hair sticking out of place. Maybe some of them are lucky enough to be born that way, but I promise you the rest of them eat one salad a day and end up throwing it up later. That clear, smooth skin you see? That would be the cake load of makeup they put on each morning before they leave the house. And you want to be like that? You want to go out for dinner with your friends and order a salad that you won't even finish while the rest of your friends are ordering man-sized meals of hamburgers, pizza and french fries.

In my opinion that sounds like a horrible life and pointless existence. What is life when you can't except yourself for who you are? When you can't go out in public and order a big mac? Trust me when I say this. It is not worth it because I promise you that you are so beautiful inside and out, no matter what anyone tells you. Now lift your head up high, go out and order the biggest meal ever and dig in because you are proud of who you are and there's nothing more beautiful than that.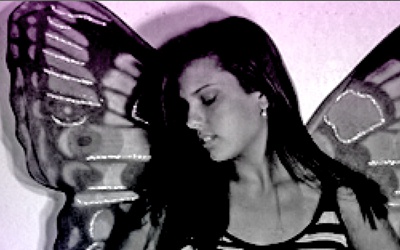 © Kathleen M., Rowlett, TX