How Could He?
April 16, 2018
 She looked at him from across the newly opened coffee shop. She knew it was him the moment they accidentally made eye contact. She did not know a thing about him or his appearance, yet she knew he was the one who did it. She would have to do it tonight, it had to be done before dawn. Now that she saw him, she memorized every detail of his body, just staring at him while her blood was boiling. He sat there drinking his tea, not even knowing she was constantly glancing at him, planning for what was to come. She left the shop while he still sat there. She assumed the black cadillac out front was his and was absolutely disgusted by it.
Later that day she sat at home, contemplating how to prepare for the night to come. She was nervous, but knew it had to be done to him. She laid on her couch, just letting her mind wander, and her body drifted away from the real world.
Hours later she awoke to a deafening knock on her front door. She yelled, "Just a minute!" and straightened herself up, just waking from her nap, and walked towards the door. The door seemed so far away, like it was taking an eternity to reach it. She began to feel light headed, like something was wrong, and nearly fell over when she reached the front of the house. She looked through the peephole and did not see anyone standing outside in the dark, but saw a dark car parked out in the distance. She opened the door and there he stood, towering over her. She was frozen; she did not know how to react. And that's when it all went down; that was when his hands rose, her eyes widen, and her life flashed before her eyes. That was the moment that he did it to her.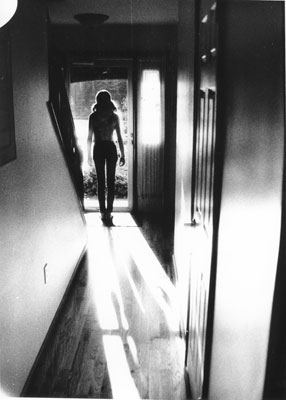 © Mike V., Morgantown, PA