The Last Tally
January 12, 2018
I sat on the chilling floor with my knife in hand, carving, once again, another tally on the wall. It was the one-hundred and nineteenth, to be exact. I keep the knife in the elastic of my shorts, covered by the black fabric and loose white t-shirt on top, or at least what was left of it. My fingers followed the curves of the wall that over timed I've created. It was a splintering script for the number of days I've been stuck in this cellar. Braille, because I don't remember the last time light reached my eyes.
Your eyes adjust over time. To the darkness, I mean. Blackness day and night has become a ritual. Hunger is typical. Constant heat is natural to me.
He doesn't know about the knife. Surprisingly, despite the weekly visits, he is yet to discover my lone connection to humanity. Ironic, right? A single knife representing what is left of ones humanness? It was in my shoe when he took me and the one thing I have left connecting me to the real world. I haven't put it down since.
On this Wednesday, exactly seventeen weeks following my abduction, I lie on the ground, awaiting my fate for the weekly visit. My body leaves a pool of sweat on the cool cement floor as I absorb the cold and attempt to cool down. All I can do is wait.
Unaware of the time, as always, he comes down and once again tries to get me to talk. He always starts by saying his name. Thorner. The world rolls off your tongue viciously, and you even spit slightly as you say it. He continues by calling me his "lovely girl" and asks how I am. I stay silent because he already knows the answer.
Sometimes I consider myself lucky. Lucky to have darkness preventing me from seeing the disgusting face of Thorner. Lucky by not having to look him in the eye and let my fear enclose me. Lucky to be able to get swallowed away by the gloom until the evil retreats back to his cave upstairs.
After the familiar sounds of footsteps faded and the large, possibly metal, door closed, I felt like I could breathe again. But something was off.
After the months I had been there, my routine was so familiarized that I thought nothing of it anymore. I was alone everyday in the dark with only a toilet and water. On Wednesdays Thorner comes down, brings food, and asks how things are. And every single Wednesday I sit in silence until he leaves. At the door, he locks three different bolts to prevent me from exiting. I have tried escaping, but the door doesn't budge.
At one point I had lost all hope of escaping. It may have been somewhere around the 40th day held captive as I can recall, although memory is something my food deprivation, darkness, and constant heat is slowly penetrating.
Yet, on this particular day, the door had not been locked. I was unaware of whether or not this had been on purpose or an accident, but I did not want to risk anything right away.
I sat, like always, drenched in sweat, using the floor as an icepack. I waited just long enough until I was sure he had left the premises, and I made my move. Scurrying to my feet, I closed my eyes. Malnutrition cleary weakened my body, and my inability to see where I was going made the situation worse. Like some sort of insect, I scurried to the stairs and took on the challenge one step at a time. When reaching the top, I felt as though my heart had dropped below my stomach, sinking down into the depths of Earth. Was I finally going to be free again?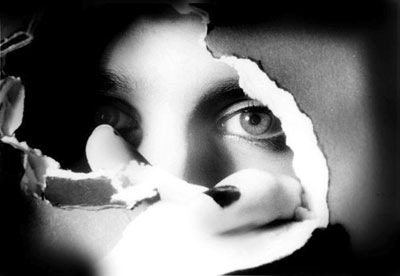 © Tabatha B., Peoria, IL