The Letter
October 13, 2017
The girl wrote quickly, scribbling on the paper as best as she could with her trembling frame.. The light above her head flickered quickly, yet the girl still wrote, unbothered.

She had only a short window of time until he left. He was her only hope for a future. She stood to pace around as she thought of what else to write. None of the students in the class made a note of her movement, each deeply focused on their own assignments. She wanted to scream in frustration! She never had anyone to help her up until this point, and now – where she actually has a chance to do something- her only hope is just about to exit that door for the last time!

The girl slumped back in her desk and felt tears sting her cold, dead eyes, the pen quivering and falling from her hands , catching the attention of him, the boy who could help her. He looked towards her, the girl breathed a sigh as he turned back to his work...not yet.

Done! This was her chance! She crumpled the paper and threw it to him, hope high. A smile on her face as he unfurled it and read. A pale sheet covered his face as he seemed to look right at her. A hopeful smile rests on her ghostly lips. He can see her now.

The crumpled note in his hands read "My name is Alice. I need your help to track down my murderer."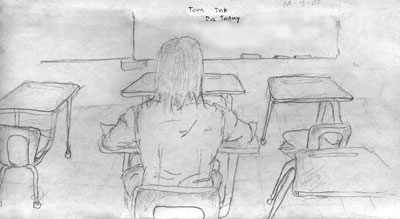 © Christopher M., Dededo, GU