I Got Shot
July 28, 2016
I'm walking when suddenly I see someone in the distance… I'm walking towards them when I see who it is I get scared. Before I'm able to turn and go a different way I hear the sound of a gunshot… then I feel the bullet. I start running even though I don't know where I am. But just as I'm about to give up, I spot the school in the distance. Running towards it, it seems like it is getting further and further away from me. Slowly I make my way to the parking lot… but I can't go any further I fall against a car.

I reach into my pocket and grab my phone. Texting the last person I talked to hoping they are at the school. Just when I'm about to close my eyes, I hear someone screaming. I yell, they are beside me telling me to hang on. They tell the other people with them to call 911. Pressing on my wound they keep screaming at me to hold on and not to close my eyes. But I can't keep them open, my eyes are getting heavy. Two of the people around me are crying. I can't tell who they are… my eyes come into focus and I see that it's my friends Tyler and Donnaya. With them is Brandon, he's talking on the phone.

It feels like it takes the ambulance forever to get to the school. I didn't think I was going to make it. But the ambulance got there just in time. Before they take me away, I whisper the name of the man who shot me in Tyler's ear. Not knowing what to do with the name he told the officers that are there. They ask him if he's sure that's what I said, he tells them yes. The cops starting yelling at one another and talking into their radios. They are putting a search together to find the man who shot me. The man with the name Hoffman.

I'm in the hospital for several days. I start to forget the events of the day I was shot. I have been interviewed by cops multiple times and I told them all the same story. Every time I tell it their faces get more and more scared. On my last day at the hospital Tyler, Donnaya, and Brandon all came to the hospital to help me. They have a scared look on their face. I keep asking them if they are okay and they keep answering yes. But I know that they are lying.

I'm finally back at school, but everyone keeps staring at me. They are whispering among each other. Some people are laughing, others are angry. Just as I'm about to ask Tyler why everything starts to fade.
Everything is going black and then… I wake up.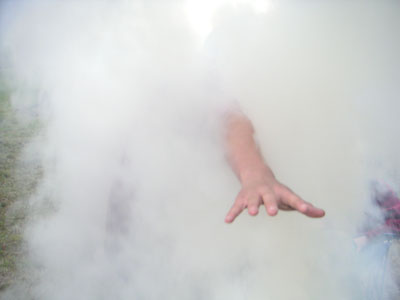 © Garrett M., Port Angeles, WA