Broken Open
June 7, 2012
It took a long time for Alana to understand the unimportance of her destiny. At least that's what everyone else thought when they stared in silence as she slowly walked down the cold concrete. See, Alana was raped by the world and murdered in the first degree. I remember this because I was there to witness the image of her wilted feet dragging across the pavement. I remember because her blood-stained dress looked me dead in my eyes. People no longer stared at her like she was the bearded lady at a Cirque du Freak convention, but an innocent soul. Her innocence slowly ran down her leg in an unforgiving fashion. And then that's when it happened. That's when we met.
Alana ran into me, forcing my clothes to become evidence of her abuse. "Sorry" Alana said. I couldn't respond. When our eyes met I knew this little girl needed to be kept, and I wanted to be her keeper. The next day I looked up and down the cold concrete in search of this special girl. She was sitting in a damp corner still drenched in her bloody white night gown. "Do you mind if I sit next to you?" I said. "I'm not running. I am choosing to be broken." Alana said. She stood up and grabbed my hand. Her fingernails were covered with feces and obvious scars. But the way she touched me, I felt her kind spirit touch mine.
You may think I'm crazy for following her, but I wasn't. Her profound silence and unique movements as we walked stunned me. Alana stopped walking when we reached a small worn out cottage. She sat down on the dirt and crossed her bloody legs. I kneeled down beside her and mirrored her movements. To my surprise she began to speak. "Do you remember this house? On summer evenings I picked lilies and gave them to my mother. Do you remember the corn fields? I went out that day to play and I finally won my first game of hide and seek. I won because I never came back."
I said, "What do you mean you never came back?"
"I was forcibly violated and betrayed by a fallen angel. My mother never came to find me. I was bashed in the head with a scorned fist. My insides were ripped open by the devil himself. Would you have protected your daughter from your husband?" Alana said.
I said, "I don't think I can call myself a mother if I didn't."
"Don't be so quick to speak. Your daughter died because of your selfishness. The image of pure terror forcefully raping innocence has made you believe that a human could never complete the impossible. It's over now though. Your daughter's fine. I see her every day. She still walks the town in the dress that reflects her abuse."
I began to feel a cold wind blow across the hand that touched Alana. A tear fell from my eye and cleansed the debris from her numb hands. As odd as it sounds, I completely understood her.
Alana preferred to call it death itself. Death has this grand design that we all fit in to. See, Alana screwed up deaths plan. Death never meant for her to die. As I looked up at the moon, sitting next to Alana, I remember a little girl whispering in my ear, "The only way to survive is to look between visible worlds." I remember that little girl being my daughter.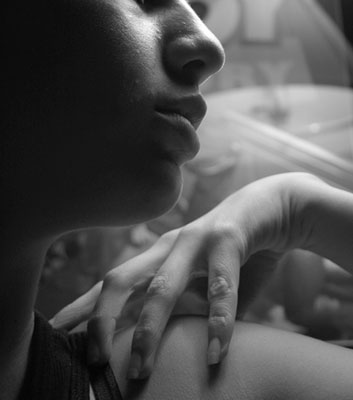 © Rebecca B., Santa Clara, CA