Time for change
June 7, 2012
Tick tock…tick tock…and the clock ticks again. I wake up. It's 9:45 a.m. It's another Monday morning in which I wake up to the sound of the people playing, yelling, laughing at the ice-skating ring. I feel bad though. I even feel pity for those who are staring at the people in the platform. How have they arrived to the point of loving and appreciating this activity like a nun praises God?

Everything began about two years ago. The rebels had destroyed nearly the entire city and chaos was found in every street corner. Children went missing and so, panicking mothers were running around everywhere. They would run, without the slightest worry they would abduct them. I was only 15 years old at that time. However, I realized how serious such reality was, threatening our entire nation. After a couple of months, nearly half of he city's population had fled elsewhere. People had moved to neighboring cities together with their families and thus, the city was left in ruins. Only those who had jobs in the State or owners of private companies stayed, unwillingly. The days passed fairly quickly though, for me at least. The daily routine of waking up, going to school, and coming back home was exhausting though. I obviously cannot compare how much those outside this world of mine suffered in comparison to me, whose troubles were as simple as having a monotonous lifestyle. The ones outside were the people who had remained in the city, jobless and without the opportunity to even find jobs. All industries had collapsed, except those that were private, which had shifted to function overseas rather than domestically. In that way, the citizens of the once powerful Bellingham were now filthy, homeless individuals.

Every morning, I stepped out of my balcony and glanced at the poor young ones who desperately scrutinized the floors of the forest and ice-skating ring, in case leftovers of food would appear. With the hope of finding granules of bread, which were surprisingly easy to find since the people moving were carrying their supplies all throughout the same path (thus leaving an almost unnoticeable trail of food particles), the children travelled from one side of the city to the other. Day to day. On the other hand, their parents or the adults of the remaining population of Bellingham, were no longer capable or even willing to look for food. After endless months of tiredness, their bodies had collapsed internally, malfunctioning from time to time. Therefore, they would stay at home, or what would equate to a home to them, a one-size bedroom made out of card box located at the edge of the river. Every single time I viewed such horrifying image, I noticed a couple of individuals, within the same tower I was in, glancing at those suffering…laughing at them. From the very first time I was aware of such reality, I was shocked. I could not believe humanity had reached such level of cruelty. How could a 20, 30, 40 year old laugh about someone else's misery? In my paradigm, that was impossible. That is why, after two years of watching the same situation repeat itself, I decided to take action. I wasn't sure how to solve the problem or even where to begin, I only knew someone had to intervene.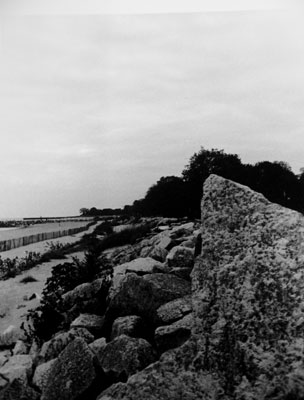 © Sean M., Apple Valley, MN