Lake Sorrows
December 19, 2011
You never know what real loss is, until it happens. That sudden pang in the heart, bellowing worse than a banshee in agony, shredding into a trillion pieces that will never again be restored to their proper position, and only slammed back with the glue of time and separation. But, it never leaves; the emotions, the event, the sorrowful horrifying nightmares, and the people. No matter how many layers of tape you drag onto the slowing life-saver, it doesn't heal. Ever. Ever. Ever.
I still remember that day, clear as the lake is blue. And even reflecting back on it, every poisoned bone in my body shivers along with the tainted flesh and skin in my body in rhythm of the falling stars. It doesn't seem realistic, that God should pick this innocent life to seize. Pure in memory and alike in the minds of all about. Though life is life, and sometimes seeming so unreasonably grieving and horrid, everything happens for a purpose. From every picked flower, the aura of a garden is emancipated. But, how could any of this be deemed possible? How could the hands of the trinity even begin to accept the fact that loss does mend? Because it doesn't. That's all there is to it.
May God be damned, for making such a decision. May the blessed angles who draped the petite body with infernal roses be stricken. This shouldn't have happened to one who faced the Salem gallows as an accused witch. I would have been a more candid option, and, would even torture myself to an eternity of suffering to bring back the innocent little babe, not even growing tall enough to bloom. Though, I couldn't. This solution wasn't possible nor practical. I wasn't the only one morning. I wasn't the single most person that begged for her shadow the most. But, I was.
It hit everyone by surprise, an instant throbber to the seemingly ordinary day. Even now, I still remember how the sun glared upon us as others and I joined in the spirit of cards. It is still easy to recall my mother and how I shrugged off her boring question, the only thought penetrating my mind being the deal of the next hand. Only if I had listened, absorbing the panic in her words and the necessity of my answer. Maybe, a life could have been spared that day, and the blossom wouldn't have been stripped of its vines.
But, life went on.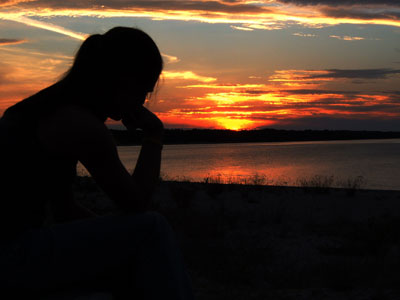 © Hilary L., Rogers City, MI