Twisted Fate
September 25, 2011
The coolness of his skin mingled with the warmth of mine. Our even breathing hung low in the moon lit air. Far off, even the crickets were silenced in the moon's beauty. His hand tapped a rhythm on my lower back as he hummed along to it. In the darkness, I could not help but smile. His heart beat was slow and steady; he was content with the world and the world seemed to be content with us, but one draw back. My thirst. My crave. His skin felt soft, but underneath I could feel the warmth and rush of his blood running through him. Propping myself on my elbows, I stare at his bare chest. He turned his head and gave me a lazy glazed over smile. He looked so peaceful, so happy, but his eyes gave away his anger and fear. "That feel good?" My steel-cold blade traced the outlines of his chest. His eyes were screaming, but he nodded and smiled thoughtfully. "Want to know what else... feels good?" My body shivered at the wafting smell of his bloody forearm held down by rope on the table. He nodded slower this time and flinched when the blade just barely kissed his lips gently. I could hear him cry out for someone to come help him. "No one can hear you..." I slid the blade down the center of his chest, just enough skin parting that a small line of blood crept to the surface. My whole body lurched to the smell of his blood. It trails down to his pants and I watch as the fabric drinks the crimson liquid. He bites his bottom lip straining to contain a torturous scream, I chuckle a bit, but in a way I almost feel bad for him. Agonizing pain surfaced in his eyes in the form of tears. They trailed down his face creating clear paths through the dirt that smudged his perfect face. Another small line cut across his chest formed a small X on top of his heart. The sight was pleasing, however my knife still cried for his blood.
"Madii? Were you even listening?" The coolness of his skin mingled with the warmth of mine. I murmured something in response. "I love you". I smiled deviantly.
"I love you too." He wrapped his arms around me; I patted my knife that begging for the first taste.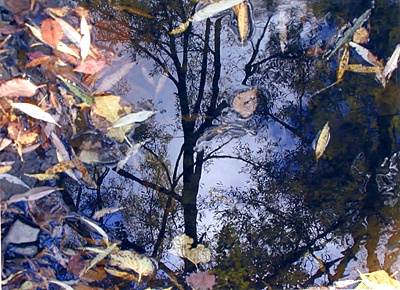 © Alex B., Rome, NY