Wanted
August 15, 2011
If you really want to hear a story about a princess and prince falling in love and living happily ever after, you are definitely in the wrong place. But if you want to hear about how I am stuck underground and waiting for my brother to bring me some food enough to last the rest of my life down here, then you're almost in the right place.
You may be wondering where exactly I am and how I got here. I'm just going to let you know you're never going to get the answer to the first question. How do I know you're not some associate of the Prince or something?
You might consider my family a family of thieves, but let's not call them that, they're my family. Let's call them a family of borrowers and it's not our fault we were invited to the yearly ball that we were for the first time invited to attend this year.
A royal parchment came in the mail (that's actually what I'm writing on the back of right now) and written in royal ink was an invitation for all ladies of the land to attend. I guess the Prince finally thought it was time for his old self to get married and since he couldn't get a girlfriend, he wanted to invite all the desperate ladies to the castle. Just so you know I am not desperate. But, my family decided to take advantage of the event, after all they invited us, right?
Well my family decided to doll me up and make me look fit for a prince, although I am beyond him. Of course, we knew he wouldn't marry me, but we knew he would dance with me. And that would be the perfect time to put our plan into action. Pick-pocket the prince and steal the Queen's jewelery. The plan all but fell into place. We danced. The Prince moved swiftly around the floor. It was like I was floating on a cloud. I just had to look at him and soon I was starting into his beautiful sweet chocolate brown eyes. And I love chocolate. My eyes were soon tracing the lines of his lips. I was falling in love with the Prince and it looked like he was falling in love, too. His face edged towards mines. I could feel the jealousy of the others breathing down my back. I had to snap out of it and do what I came here for. The clock had still not struck twelve yet, which meant they hadn't reached the Queen yet. But, I had to get out of there. I stopped the Prince before his lips got any closer to mines and told him I wanted to be with him in private. He sent his guards away and took me out to the majestic garden filled with tulips that looked like they wanted to whisper secrets in my ears. He began a little conversation as we danced to the music we could still hear playing inside. I slowly slipped my hands into his pocket, as we danced slowly. I grabbed on to what I needed and ran. Surprised, he ran after me asking what was wrong, but no one could catch a thief, I mean a borrower.
I ran and fell into this hole right here. I decided this was where I would live. I feel like everyone is watching out for me. but down here is actually not that bad . It's kind of cool and big. My brother told me the Prince is still looking for me. He made an announcement. He will not give up. I refuse to be locked up in a dungeon. Even though this is really close to one. But I came down here on my own will, well almost. Wait! Ssshh, I hear footsteps......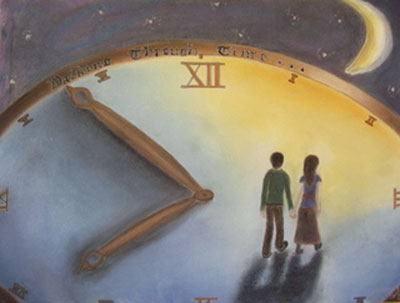 © Carollynn G., Hawthorne, NY