Shadows
January 6, 2011
It was a dark and dreadful night as a shadow created by the full moon lurked across the street. A weary man approached a large, deserted house with great caution. He noticed the gray tint the dead grass had and the broken windowpanes that allowed the full moon's light to seep into the house. As he slowly stepped onto the porch, the old wooden boards groaned beneath him. The pillars supporting the house were termite-bitten and the paint had been removed from years of neglect. A loud noise came from behind and he turned to see, there stepped a black cat with gleaming yellow eyes that shined in the moonlight. The cat ran off into the house as if inviting him in.

Inside this gloomy house, the man saw the cat run up the spiral staircase, leading to the second story. To the right, there was a living room and a grand piano with cobwebs strewn about it. As he stepped closer toward the piano, the door closed and the man saw a caped figure run in the opposite direction. Intrigued, the man followed in the direction of the silhouette and came across the kitchen. The man was parched and had not had a drink for several days. He opened the refrigerator and a bright, blinding light illuminated the entire kitchen. Utilizing the light to look around, the man discovered that a single knife was missing from the knife holder. Seeing this, he quickly ran back into the direction of the living room, when he stumbled over something. He leaned down to pick it up and used the moonlight shining in one of the broken windows to see what the object was. It was a headless doll and stitched across its belly had the word, "YOU." Terrified at this discovery, the man ran to the door, but it was lodged in the door-jamb. He turned and headed straight toward the staircase and ascended its creaking steps.

Upon reaching the second floor, a narrow hallway focused in on the end, where a single door awaited. Anxiously, he crept toward the door, passing several more along the way. Hands shaking, he pushed the door open, and across the room a captivating mirror stood standing. Mesmerized by the reflection of moonlight, he walked closer, into the heart of the room. As he stared at his faint reflection, he noticed a caped figure behind him. Before there was a chance to act, a black, leather glove pushed him to the ground and dragged him off into the silent, darkness of the house. Later on that night the man's shadow never did cross the street again, but the shadow that did, was of a black cat carrying a doll.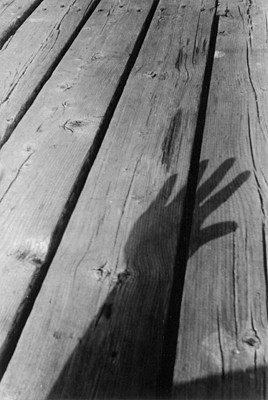 © Janet D., Marblehead, MA