Victory
March 6, 2010
Rod and I sprawl across a wooden park bench, celebrating our eleventh consecutive defeat. The night's a filmy grey, riddled with spots of grainy white, and we stare into its musty depths, uncomprehending and content. We're done with searching, finished with trying. The air swims with day-old pizza, and we're drowning in the staleness of the place.
"Twelfth time's the charm," Rod mutters. His face hides in shadows, soft and exhausted. I love him, love this lazy stillness, this weary familiarity between us.
"And the eleventh time?"
"Old charm. Out of date."
I hum in agreement, and it's as if the world convenes on this one point, this one place that's part me and part Rod, and somewhere in between and in us both. It turns, sharp and silvery, an end and a hope between us, and I can't stop it, because once, just once, I want to feel victory between my hands.
"Next time," he gasps, abruptly intense. "It'll be next time, I promise." He stares at me, and it's pain sharpening his gaze, but there's relief too, and gratitude.
I agree, because I believe him, but know that he's wrong. We'll never win, and we both know it. The acceptance is smooth and stifling, and it slides over us, cool against the dusky darkness.
They're victories of their own, these heavy nights with Rod, and I wish that we could go on like this forever, losing forever for the nights of defeat that follow, when we limp, bloody and bruised, to collapse on each other on this bench in this park in this airless city night.
They're victories of their own, and when I feel the solid thump-thump sputter and slow in Rod's chest, I smile, because it means no more defeats, no more losing, no more evenings spent beating each other into bloody submission, no more clammy nights of mutual defeat on our bench.
Rod's heartbeat fades out into a whisper of breath, regret and atonement, forgiveness, and the knife gleams bright and silver in the streetlight, but Rod's still warm, and his blood's still wet, so I press closer, and cradle his head in my arms, and cry desperation.
We've lost again, the both of us, and the knowledge is thick and sticky and crusting on my hands. The triumph is tart, and I hate myself for doubting that it could ever be different.
And then it's just Rod on the rough brown bench under the flat pink dawn in the slick red blood, and I wonder who's won, in the end.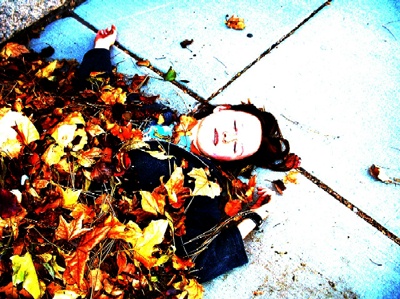 © Shea D., Albuquerque, NM