Dreadful Donation
March 16, 2010
Robert Geoffrey Taylor was an average man. He had no excellent accomplishments, fantastic appearance, or outstanding personality. He went to work day in and out at a paper company in a small town in Pennsylvania, for the purpose of providing for himself, his dog, his goat, and his macaw. They were the only family he had.

One Monday in October, there was a blood drive held in the business plaza of his employment. Trying to do something new and helpful to the community, Robert bravely volunteered to donate his precious AB- fluids. The walk from his cubicle to the parking lot was a dreadful one. Everyone stared with a sinister gaze as he passed by their desks and the water cooler. There seemed to be a soft dirge playing as a coworker's phone rang. The parking lot was eventually in front of him; an entirely new challenge. Beyond the rows and rows of parked middle-class suburban vehicles, a small box could be seen. As Robert looked closer, he was compelled toward the distant shape. It pulled him past all the cars and out to the oblivion where no one was willing to park. There was not a soul around as he got closer to this trailer where his life would somehow change. He could not back out now; there was something making him go on. Someone needed the blood he had to share.

The door opened with a tenacious force. There was not a single person inside, yet as he entered, the door closed with a terrifying bang. The small room had no windows, and the only light was coming from the blinking red monitors to his left. Robert could not move. His feet were frozen to the floor out of the terror in the air. He felt something prick his arm. A quick glance down revealed a needle jutting from his inner elbow. From it, a thin tube extended into the void. Robert relaxed slightly, thinking that this absurdity was a part of the process in donating one's bodily fluids. This passive state was not long lived; as a similar prick was felt on Robert's other arm. Petrified, he looked down to see a similar contraption attached.

Hoping and praying he would be okay in order to get home and feed the dog, goat, and macaw, he struggled away from the constraints. This only resulted in several sharp pains in both legs and his neck. There was nowhere to go and nothing to pull to get out of that small black box. His attempt to do good for the world had trapped him in unfortunate doom. Robert could feel as the life, soul, and energy were sucked out of him through this system of donation. He could not escape from the machine taking all he had from him. The blood was drained and so was all personality, motivation, and simple skill was stolen through the clear and pure plastic tubes.

The needles disappeared abruptly. Robert looked down and saw the gaping holes in his arms and legs, assuming a hole existed in his neck as well. This experience was unexpected. He left in pieces, expelled from the same door that had sucked him in. As a plain man with no family or close friends, a genuine attempt at relieving another's pain, he had volunteered. This volunteering was a compelling contract, unlike the stories commonly told. It turned him into an empty man with holes throughout for all to see as he walked back past the water cooler.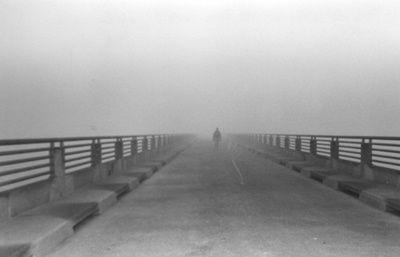 © Becky G., Westville, OH