08-23-06
January 31, 2010
Bam! That sound said it all… It was the sound of the last door of the building being shut and locked before my very eyes.


I was the last one left. He'd killed everyone else. They tried to run, to escape, to defend themselves, but it was all in vain. I heard him laugh as he murdered – slaughtered – every last one of them. I hear him laugh now. He's coming.


I run to the stairs just as I see him come around the corner; his white long-sleeve shirt which should have made him look warm and loveable made him look cold and threatening, as it was tainted with their blood, his hair black as obsidian, eyes red as blood, full of anger and hate. He's coming.


I ran into the first room I saw, the bathroom. Blood on the walls, in the shower and all over the floor. I look around and I'm reminded of all the things that have only just begun.
I stepped into the shower and removed one of the floor tiles where my partner had told me a gun would be hidden in case of emergency. Just as I picked up the rifle I heard footsteps in the stairs. He's coming.


I ran down the hallway and into the bedroom. I looked around desperately looking for and exit. Finally, realizing that there were none, I sat on the bed – our bed – though it would never be again; you were gone, and wept, for we would never again be together. He was going to kill me; I could only hope it would be quick and painless. He's coming.


I see his head peek over the top of the stairs; walking so slowly – almost as if mocking me – telling me there was no exit. He's coming.


I look up suddenly and see him staring at me from the doorway, a piece of glass – probably from the shattered mirror in the bathroom – in hand. I lift the gun and aim for his heart just as he throws the piece of glass. I don't flinch; I was never scared of death.


I saw the blood trickle down the front of his shirt and the piece of glass connected with my left shoulder. It was him who flinched when I pulled the trigger – I know because his aim was perfect just two seconds ago - and his aim was affected by it.


I sat and stared as he fell to the floor. I waited for what must have been hours – it didn't matter – there was no one left but me, so I waited.


Once I had waited long enough to be sure he was dead I rose from the bed and searched him for the keys. After a few minutes of searching I found them hidden in a small pocket in the sole of his shoe. I took and walked out of that house – that horror – and towards a new life.


I'd like to say that it's because of luck that I'm alive today but if I was that lucky you'd still be here with me. So instead, I'll simply believe that you were there, watching me, that it was you who altered the course of the glass, that wherever you are, you still love me.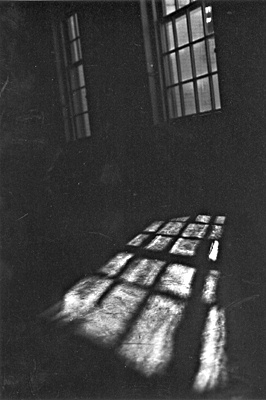 © Mary A., Fullerton, CA