Under the Sweater
November 6, 2009
The sun was out and the weather was great. It was the middle of August, so it wasn't cold at all, but Mariah, a thin girl with thin long blonde hair and blue eyes, was wearing a sweater. She had to be hot because, I was hot and all I was wearing was a ting top and some shorts.

I watched her from across the cafeteria at lunch to see if she's take it off, but she never did. I thought about her the rest of the day. Why, why was she wearing that blue sweater on such a hot day?

The week got hotter and hotter each day. Mariah still wore her sweater. I was starting to think she was crazy.

"Something's wrong." I said as I picked up my things and headed to the empty table Mariah was sitting at. My friends made no comment they just watched me go.

Mariah normally had friends sitting all around her but, not this past week.


I asked, "What's wrong? Why are you here by yourself?" she didn't reply. "okay don't answer those questions answer this on why are you wearing that sweater?' she didn't reply she just looked at me weirdly. It's not an ugly sweater its really nice don't get me wrong it just really hot outside."

She got up and walked away. As she left I saw some tears run down her pretty, pale face. I didn't say anything wrong did I? I asked myself then said out loud, "No?"

The next week I sat at table with her and occasionally I'd ask her a question, but she'd never answer any of them.

After a bout three days I didn't ask any questions. When we finished lunch she grabbed my arm. "Come with me." She said.

We walked into the hallway. "I have no friends because I told them everything, everything." She said then broke into tears. She then took off her sweater; her arms were coved with cuts. Now I finally know what was under that sweater.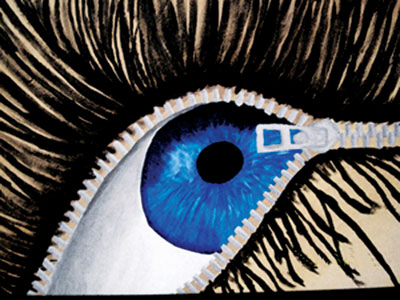 © Brad S., Lecompton, KS