Scribbled Defiance
January 26, 2018
I glanced around slowly, careful not to draw too much attention to myself. The ignorant cattle are more concerned with how many steps they've taken than they are with me. I had learned to live like this, always drifting into the background. There wasn't any trick except that no one will notice you until you do something wrong. The key was just to never get caught.

As my gaze combed the bustling, grimy crowd one last time I became aware of just how monochrome my whole world was. Everything, me, the people, the walls were are all barely varying shades of brown or grey. Everything was dull, bleak and lifeless. We may be surviving, but truly what worth did that hold.

Satisfied that I would not be disturbed, I turned my sights onto the blank portion of wall that stared back at me. Every other inch of the expansive city walls was covered with the same poster, one pasted over another but not here. No, here the paste had weakened over years of being out in the elements and a single corner had come loose. It was a graphic, if you could even call it that, of a blank white background with seven tyrannical words displayed in dynamic, black, bold letters.
REMEMBER WHERE YOU STAND
AND STAY IN YOUR PLACE

The words had followed me everywhere since the moment I was born. No matter what I did I could never get away from the permanent posters. They couldn't be ripped, crumbled, or written. Those words were permanent, and seemingly all encroaching. They were there on every wall, window and telephone pole. They were there on the fancy city monitors and on the bottom of every receipt. They were even there on the monitor bracelet clamped around my wrist, as well as everyone else's. They were everywhere.

Everywhere, that is, except for this precious few inches of exposed concrete. Here, there were no preconceptions preventing me from doing anything. Here there was the potential for a new idea, for new words. Here, my fate was up to me.

Carefully, cautiously, I dared to reach into my coat and withdraw an achingly familiar object from the secret lining of my pocket.

The soft tip of the permanent marker grinned back at me as I managed to discretely remove its cap. I pressed that tip to the cold wall without a moment of hesitation. I did not need to think this action over. If I did I may loose my nerve and back out; that was not something that was going to happen. Besides, I already knew exactly what I wanted to write.

As I carefully guided the letters onto the rock in graceful loops I was grateful for the first time all those hours in the night spent bent over a board propped up by paint cans. I was grateful for the first time that my brother had insisted on teaching me how to read and write. With each curve of my wrist I thought of him. These words would've made him proud.

I stepped back to admire my handiwork, recapping the marker before sliding it back into my pocket as I did so.
I smirked slightly, knowing that although it was not large, I had one at least one battle against those who thought they control me. Many eyes would see the two syllables I left, and every pair of eyes it touched would understand that this life was not all that existed, even if they did not understand what they meant.

The controllers may have their words pasted across the wall but now, now I did to.

RISE UP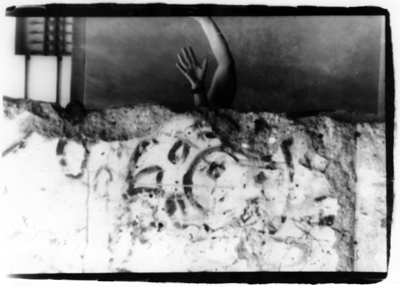 © Yara K., Bethesda, MD