InkPen
February 8, 2009
Inkpen is was a nickname he got in high school, and fallowed him through college because he used to always use a inkpen on his arm and draw little tattoos on himself. He would only draw on himself when he was sitting down it was very quiet or there wasn't that much activity going on at that time.

He was one of the quiet young kids in his high school and in college. Even in his own home. His real name was Marcus Atkins, but he was still called Inkpen by all of the older adults, such as him mom, dad, and the staff at his college. Not only did he like to draw tattoos on his arms and legs, but he also liked to draw pictures of things he found interesting.
That also was one of his favorite hobbies to do when he had nothing else to do. One day in chemistry class, Marcus stayed after in Dr. Steins classworm to finish his test which was very very long. Marcus got up and looked at Dr. Stein and asked him if he could go to the bathroom. When he got up to go to the bathroom, Dr. Stein noticed Marcus's pen fell out of his pocket but didn't tell him about it. Instead when he was out of t he classroom, he got up and put the inkpen in his pocket and pulled out a special inkpen Dr. Stein himself created which will last a long time. He set it on the front of his desk and sat back down in his chair and pretended nothing ever happened.

When Marcus got back form t he bathroom, he walked to his desk and grabbed for his pen out of his pocket but realized it wasn't their. He then looked at Dr. Stein and asked him for a pen. Dr. Stein looked at the special inkpen he created and then back up at Marcus and then smiled to let him know he could use that inkpen.

After Marcus was done with his test, he turned it in and then put the pen Dr. Stein gave him in t he back of his pocket forgetting it wasn't his. Dr. Stein knew what Marcus had done and was happy that he kept the inkpen. That night at his Marcus's house, he was finishing up some homework and while doing that, he got board and decided to draw on his arm. He took the special inkpen Dr. Stein gave him out of his pocket and started drawing a picture of a man sitting at his classroom desk with a hooded sweater with his head down.

As soon as he was done drawing thew picture, by mistake he pocked himself with the pen which released all the ink from the pen into his body changing his DNA. He fell to the ground and began to cry and choke up and constantly coughing.He turned blackish blue. His eye's went dark grey. He started to become all droopy and gooey with ink coming out of every opening on his body.

He fell on to the floor and started crawling to his bathroom and closed the door behind him. He sat down on the toilet seat and closed his eye's and groaned and crying out in pain. He could barley move his body. He slowly put his hand on the shower handle and turned it on. He waited a little while to get hot and then fell into the shower with his clothes on and everything. As soon as his body hit the water, the ink came off his body and went down t he drain. When he got out the shower, he slowly limped to his bed and fell down and fell asleep.

The next day day, Marcus walked in to his class walking slowly and heavily with a hooded sweater and his face coved so you couldn't see it. When Dr. Stein told him to take it off, Marcus looked up at him with a disturbed look on his face and took off the hood.

When he took it off, you could see that Marcus had ink marks on both sides of his neck and a scar under his left eye.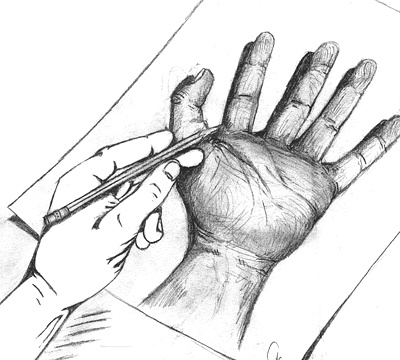 © Casey C., Rockport, ME