Mateo Lost
November 18, 2014

    Where his eyes fell, an icy presence rested, carried by unforgiving memories and harsh words spoken by those who had no reason to hate.
    When her eyes laid themselves at his lashes, a quizzical look blanketing his leafy irises. His forehead contorts, shaping lost dreams and hopes crushed by what he had once achieved; the cleats he wears not in pride but in shame that he cannot do better.
    He is by far the most preeminent player.
    Lowering his lashes, he finds her hands clasped at her navel, twisting with unspoken trepidation as she ponders the slow path of crystalline tears tracing thoughts of things unknown to her.
    "Mateo, you needn't worry yourself for the things you cannot change."
    She knows he wants to worry himself; she brushes a shock of feathery chestnut hair from his ears, showing him listen to me, you'll be fine. He catches her pale, slim fingers in his long tan ones and clasps her hand, soft as leather and rough as the Summer grasses in California. Please don't go.
    She parts her lips to declare peace, but only a shortened breath comes forth as his hand tightens to the point of burning, intense pain.
    "Mateo, you don't have to...."
    "Clara, I must." he pulls her roughly by the wrist, muscles tense as he guides her from the floor. At the same time, a hand splays on the wall, and the earth begins to tremble as if it were terrified as well, although she alone knew his secret.
    He gently shoves her through the doorway; her cheeks glitter in the sunshine, her head lifted to the sky. "Why?" she mumbles, confusion addling her mind and wending its way through her heart as she realizes she can no longer recognize his leafy eyes that now shine with release.
    She now drags him along, but not quickly enough. A cloud of unfathomably crushing powder envelops them, and a wroth avalanche rumbles not far off, threatening to make him pay.
    He falls to the dusty ground, eyes begging forgiveness as she collapses upon his fallen body. He can no longer remember unforgiving words and hate without a cause.
    All he remembers is his hand splayed against the wall behind her.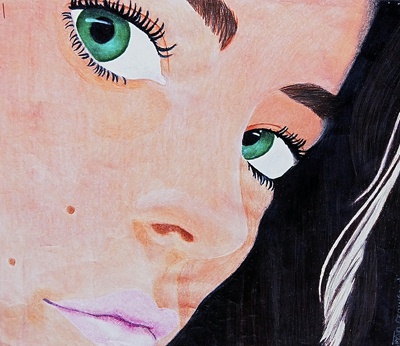 © Keenan C., Kannapolis, NC