Almost Dead
June 9, 2013
Most people would probably call me a ghost. I'm never noticed at bars, girls on the subway never look at me, and ? like many other men at my ripe age of twenty-three ? I simply exist. I don't like that name, though. It's too dark, too mysterious. I'm not either one of those things. My name is Randall Pitowski, and on September 23, 2011, my nonexistent existence finally was over. I was on the way to tell my girlfriend, Michelle, not to get on her plane to move to Chicago. We had got in a fight, so she was going back home. I had realized my wrongdoings only minutes after she left. The airport was ten blocks away, so I didn't bother getting into my car and dealing with the congested New York City traffic. I just bolted out of my mom's apartment and ran to her as fast as my legs could carry me. That was too fast, I suppose. All I can recall is horn blaring sharply into my ears and a flash of white light.

In a swift rush, my memory rejoined me outside of a motel. Gradually, my thoughts recomposed themselves and I peculiarly remembered that I'd been struck by a car. I strangely felt no pain from the impact. Instead, I felt a tingling numbness, like my entire body was asleep. The shock from the whole event must have made the following hours a blur, because I the last thing I remember was staring into the angry headlights of that taxicab.

However, none of that mattered, because I was standing before my beautiful Michelle. She was sitting alone in a motel room as I stood alone outside her window, watching invisibly. I guess in that sense, I was still a ghost. Words excitedly fluttered to my trembling lips, but died silently on my tongue as a knock was heard from the door. A handsome man stood behind it, holding flowers and a bottle of wine. They were ecstatic to see each other. Pain resuscitated the lifeless jumble of letters in mouth by filling them with hate and jealousy. As each phrase was resurrected, however, they seemed to be no more in existence than I was, as they just ignored my undead abuse. The only reason of being there now was just to watch the images unfolding, which were so painful that they made my eyes bleed their clear blood.
Something made me remember my mother at that moment. I randomly sprinted out of her house without any explanation. She must be worried sick. As quick as that bright realization, I was home. Mom was cradling my ten-year-old sister, Emily, in tears. They've apparently been at it for a while, because they separated and my sister scurried to bed. I tried to bring the remaining words caught in my teeth with apologies, but I was again interrupted. My mother painfully sat up and arthritically moved her aching bones with a disturbed visage. She just limped away to her bed without a word.
Confusion built up in my head until the pressure was pushing my brain up against my skull. Heat and burning pain scorched my insides until I wanted to rip out my hair just to feel something else. All I knew in that moment was that I had to follow her into her room. Looking down into her tortured face, I strangely found a sense of fulfillment. Gently, I laid my hand upon her cheek and brushed across her face. With each passing moment, her troubles faded and gave way to a peaceful smile. With a kiss on her forehead, half of my pain went away. My mind was deflating peacefully like a balloon left in a cellar. I left her and saw Emily. It was kind of funny; she looked just like my mother. The same feeling of belonging crept up inside me. Something told me that I should have done this. I didn't even have to touch her to change the curve of her mouth. Leaning in close to her face, I whispered, "Sleep tight, angel."

At that instant, I was consumed by light. The searing balloon in my brain popped and release a cool spring breeze, replacing the numbness in my spine with calming winds and the boiling blood in my veins with chilled spring water. A beautiful melody rang in my ears, and my eyebrows released the tight grip they kept on my face. I knew peace.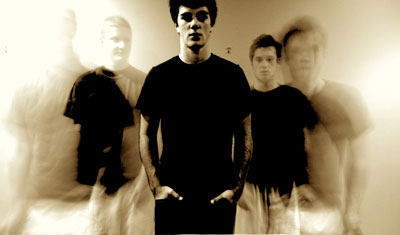 © Brian M., Fishers, IN