The Doll Master
November 22, 2012
One knife. Twenty-six screws. Four screwdrivers. A box of nails. Fourteen jars of paint. One pair of scissors. A brush. These are the tools of my trade. I am the doll master, and my creations aim to please.

Slowly descend the creaky staircase, take them one at a time. The lights flicker, flicker. Finally, with a bolt of lightning, they go out. The only light is through a rain splattered window on the other side of the room. You turn around to leave, to re-climb the stairs and go home, away from this haunted house of horrors. Before you can even take a step, the door swings shut and, with a click, locks.

That shouldn't scare you off, should it? Come, follow me, I know the way. Have I ever steered you wrong before? Turn round this corner, now this one, through this room, ah, isn't this fun! Stop! We're here. Bum bum bum BUM! The display room. This is where they are housed! My dollies! Now, strike a match, it's dreadfully dark down here!

On the shelf in front of you, we have the limbless dolls. Some of their limbs have even been added to other dolls, like Octavia, the beautiful spider girl. She has four legs and four arms. Clever, huh? Because the prefix oct- means eight and all? Ah, why do I even bother explaining? Rube!

Next we have the painted dolls. Meticulously crafted, I have made only a few of these dolls. The best (and oldest) example of this is Domino, a girl painted half white and half black.

Walk over here and see the special dolls. These are my personal favorites. Pinhead is here. She is my youngest doll. See how I've removed her hair? Nails look much better, I think. Don't you agree? Finally, the piece de resistance, Jesse. Jesse is my best doll, and the first I've ever made. He is my winged boy. His wings are made of one inch nails, so they sparkle and gleam in the full moon's light.

Watch out for that… Oh! You've tripped. Here, let me give you something for your pain. BAM! Oh, I apologize profusely. I guess being hit over the head by the hammer just made you hurt more? Oh well, it matters naught. Being knocked out just makes you more agreeable for surgery! And besides, your leg doesn't hurt anymore! Hmm, now what kind of doll should you be. You may just be spare parts. Oh well, I'll just start sawing off limbs and see where it goes!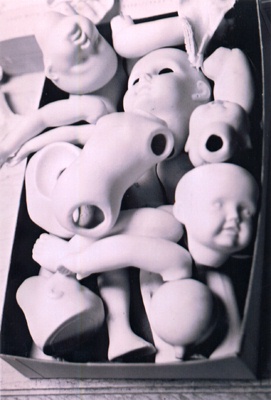 © Malorie M., Walkersville, MD