WORLD OF DREAMS
June 2, 2012
I bent slightly to see my clear reflection smiling back at me from down under the still, pristine river.
I slowly rowed over, to get a closer look at the garden of various different coloured roses that beautifully decorated either side of the river. Red, white, yellow, blue, pink, purple and peach; they stood in unity. The delicate faces of these roses seemed to glow, delightedly welcoming the full moon's grace; my eyes celebrated this scene and so did my heart. The sweet smell they possessed mesmerized my senses and made me fall in love with their company.

Once again, I looked at my reflection that was not as still as before. Then, I noticed, that two other charming members had been giving me company. I saw, speechlessly as a couple of pearl-white swans floated gracefully across the river. With admiring eyes, I studied their milky white body that resembled fluffy, soft flocks of clouds that accompanied the moon. Their skin should be as smooth as snow flakes, I wondered. I looked around myself, only to be amazed at the atmosphere that had blossomed around me. A calm river flowing peacefully, swans that vibrated their charm, gardens of glittering roses that smiled on either side of the river and, to cap it all, the moon; the silver circle that lit up the dark sky.
This, my dear friend, is only a minute part of what my land of dreams is made of.
My vehicle would be faster than the lightning; 'Steel' my horse would be beautifully black all over and would shine brightly when the sun's luminous rays fall upon him. Rich apple trees would border my roads and I would retreat on the juicy fruit while 'Steel' would steal some rest.
I would live on the shores of a beach listening to the beating and tapping music of the waves, the whistling tune of the wind. I would stand nearby a great waterfall; I would admire and fall in love with its grandeur and remarkable beauty. I would, mesmerized by its grace, play a melodious pleasant piece on the violin that lay on my shoulders. I stood there, my feet wet, as I played my violin, rejoicing my very own world that I lived in.
My world had no flaws, no pollution, and importantly no global warming! My land and my life on it was surrounded by nature, breathed greenery and spoke of natural beauty; a gift from the almighty!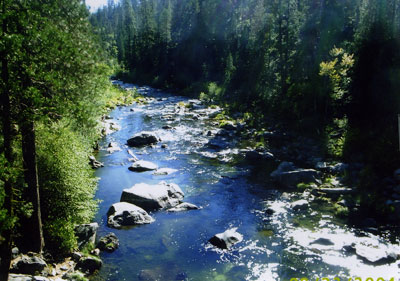 © Laycie C., Stockton, CA