The Last Hunt
March 17, 2011
She ran through the clearing with her eyes welling up slightly. Her kill was heavy hanging over her shoulder. She knew she was being hunted. With her dark brown hair sticking to the side of her dirty mouth, she crouched down, trying to listen. She shrugged the carcasses off her shoulder to the side. The leather pants she wore squeaked and the heeled boots began to throw her aching knees into a buckle. She crumpled down into the foliage on top of her food. She was sure it heard her, the thing that was following her. Sure it would come, the sneaky, cold-hearted predator.

Don't move, she thought, don't move and it won't hear you. And breathe naturally. Her fingers grew numb and her grip tightened on her knife. Her eyes flicked around, searching for a sign of life. Quickly the heel of her hand pushed into the stiffening ground and brought herself upright. The frozen mascara streaks made it hard to blink.
"Where are you?" she screamed, her throat constricting with the words. Terrified, she pulled her dagger up to her chest. Its blade was blunt and smudged, not a very trustworthy weapon. When the wind picked up, her muscles contracted to keep warm. She dropped her weapon, defeated and only half-alive. Frost began to collect on the raccoons' fur and her eyelashes. "Please, go away for just a little longer."
But it came, frozen and un-giving. The last thing she felt was a cold sting before her color was finally drained.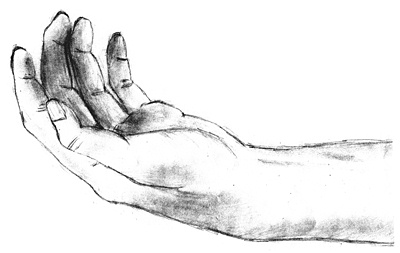 © Shana G., Cross Plains, WI