We Will All Burn For Her
June 8, 2010
I'm not sure of her name, or exactly where she is. I know she has black curly hair, pale skin and bright blue eyes. Her entire home is filled with doll houses. No, a doll world. Our world. She controls everything and everyone in it. Were all plastic voodoo dolls walking around by her command. If you fall, she knocks you down. If you die, it's because she got bored with you. She melts you down and pours your liquid self into the mold for another. She can never leave her home. For if she did, people would think for themselves. The only problem is she wants to be free. She's only ten years old. Her father and mother died in a brutal fire, leaving her completely alone. She believed fire, burning to death, was the only true way to die. After all, it is the only method of death she'd been exposed to. We are her only company.

She rips apart her home looking for any kind of matches, lighters, lighter fluid, or gasoline. She pours the gasoline and lighter fluid all throughout her home. Acid rain tumbles down onto our little planet burning holes through our homes, streets, and cars. It hits a small boy's face and starts to eat away at his flesh, revealing his young bones. The rain stops abruptly. We think it's all over. The small boy's mother rushes over to his decaying body, letting out banshee-like screams. The girl gathers her matches; she's going to torch us all. Flashes of orange light flicker in the dark sky. Flames erupt from everywhere and smoke clouds hover above. The ashes and flames explode into enormous walls of fire, blocking any escape route for anyone.

The little girl gathers her coat and gloves. She puts them on. She walks up to her front door and grasps the cold crystal handle. Light bursts into her eyes. She steps onto the concrete stair, at this point her entire home is filled with flames. Before shutting the door forever, she turns around and looks at what she's done. She just murdered billions of people in her own home, with her own hands. She smiles; glad to be free of the burden called earth. The door slams shut on us and any hope of surviving is gone. Just think about it, we were just dolls to a ten year old girl. This was her world; we were just living in it.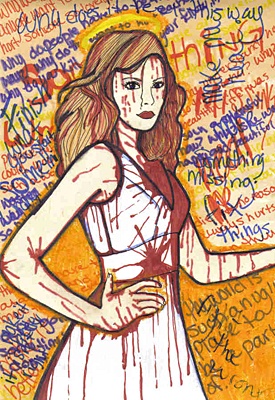 © Sara D., Aiken, SC