Conceive "Me" Chap. 2
March 20, 2010
SICK

The vaporous hot water pour down on me, as my burden and fear darted out of my slit vein. I stand heavily. More and more steaming water come sprinkling down on me. All my worries and pain—if that's how to describe it—is gone. I guess I feel relief, but I want to feel more.

I get out the shower, warmly, and stare into the small mirror. Only thing is, the mist obscure my vision. I gingerly wipe the mirror and gaze at myself. My ebon curls are damper than wet socks. Tears of water trickle down my pale skin. I shiver. What's so wrong with me that nobody likes? I do nothing and they deride me. I can't be ugly. Can I? Why is it that I—


Knock! Knock!
Knocker: "Mia, honey."
Knock! Knock!
My mother, the knocker, bang on the bathroom door as I cringe.I should slap her. You shall'nt interrupt thoughts. It's rude.
Knocker: "Mia darling, dinner's on the table. Come and eat."

When did she get here? I'm positive she wasn't here when I had....when I had...cut myself. She couldn't have been; it was too silent.



I walk unhurriedly to my room to find something to throw on for dinner. Actually, I do not want to see my insipid mother. Unlike me, at least she still has friends. All of mine have vanished. Vanished conspicuously. I try hard not to think about them and the foolish reason why they left me. It makes everything harder. Also, my mother has a life.

I throw on pj pants and a tank. Why wear something fancy to something that has no meaning. I shouldn't eat with my mom and dad, I should eat alone. I like being a-l-o-n-e.


Wandering into our small cherry kitchen, my mother and father sit eating without any tongue. My mother says to break silence, "Ven aqui." Which means "come here" in spanish.

I want to answer por que, why, but that'll only call for an
argument. I can't afford that. I'd have to cut my self once more, and my wrist is already ruby red. She'll wonder what I did. I want to just rest now. Take a quick nap. Rejuvinate my personal being...I guess.

I sit and eat.

The food is gross. My vision is fuzzy. Say something! Dummy Dummy Dummy. All I can think of is "I'm gonna be sick". That's not an excuse to leave dinner. My mom will just tell me to swallow. Ewh.
Swallow puke? I hate her. I'll eat then leave to throw it up later. That's perfect. Crazy yet perfect and gross.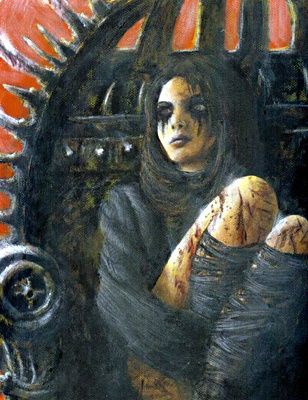 © Veronica N., Kenora, ON, Canada