Monster
January 15, 2010
The year is 2076, the world has changed into a mass destruction of itself. Criminals are running the government. This all started in the year 2056 when I was a little boy; the law had been passed, making all criminals allowed to roam free. I remember that morning like it was yesterday: I was sitting and listening to my parents talk about our leader.
"He can not do this to us," my mom sobbed.
My dad trying to comfort her saying, "Everything will be ok."
My parents had the news running on the television in the living room I could hear it from the kitchen. The news reporter kept on saying.
"Once again the president was arrested for murder of the vice president. He was sentenced to life imprisonment. As we all know that within a week of jail, he passed a law from his cell stating a criminal could be released if they paid off their crime to society.
"Now for an update in city news the crime rate has doubled in the last week and police officials are trying to keep the city clean but as we all know there is no way to change it back. Thanks for signing in for your daily news," the reporter stated with tears in her eyes and sadness in her voice.
That was the last night I heard my parents' voices. That night the law went into effect, someone broke in killing both my parents.
Twenty-four years had gone by. I was sleeping when I woke up to an intruder. I could feel and hear someone inside the apartment again. This had happened every day of the week. I grabbed my gun from under my pillow; I was ready. My heart was pumping so fast it was coming through my chest. I opened the door to my bedroom so slightly, I could hear his hands grabbing what was mine. I swung open the door, and a heard a loud thud when it hit the wall.
I looked at him and he looked at me; we were both terrified. I could see and hear it in his eyes and heart. Both our eyes did not even blink or move, our eyes were locked.
I lifted my gun toward his heart and he said, "Please don't kill me. I will leave right now."
I said nothing and stood there. Before I could think I heard a boom. I was sitting in a pool of his blood holding his head up so he was looking directly at me.
"You shot me", he said it over and over again. After a minute he was dead. I closed his eyes. I was ready to dispose of his body like with the others I had done. There had been so many before him.
That night after I was done disposing of him, I went to sleep. That morning I awoke to the sound of my voice alarm clock. I was getting ready for work. I put on my uniform, and ran downstairs to the coffee bar. I pulled up a seat, and told the waitress I would like a cup of coffee. She asked if I wanted it with cream, I said, "Just black." She told the robotic chef and he made it up.
Much of the technology had become advanced, but the crime rate had risen, causing more havoc. I got up from the stool, paid, and left a tip. I was walking to work, but all I could see was crime, people stealing and running. Not one person walked the road besides me, only the criminals; the criminals owned the laws and the people.
While on the way there, I was mugged.
"Give me all you've got," he said with anger. I held up my badge and he left me alone. That was all it took.
I arrived at the police station. There were criminals lined up to pay their debt to society, and be freed back into the community. I thought "One simple payment, that is all it takes." I worked on the force arresting people. I saw my partner Davis and I said, "Hello."
He said, "Hello Dan, ready to go out?"
"Yeah, it looks like a good day today, a lot of criminals to arrest," I said sarcastically.
We were ready for the morning drive. I started the hovercraft, and we take off into the crime filled streets. We drove around and arrested twelve criminals, stealing, murder, and car theft…….. The list goes on and on. Me and my partner take the criminals back to the station, and let them pay off their debt; that is all it takes to put them back in the streets.
By that time it was lunch and we decided to take our lunch break. We drove and went to pick up food at a cafe I stayed in car while my partner went inside. I waited in the hovercraft for him, but it was taking awhile. I was listening to the police radio; there was a shooting at the cafe we had been eating at. I grabbed my gun and ran in. I could hear guns shooting inside the joint. I ran inside shooting my gun. I shot the two gunmen and they fell to the ground instantly with a thud. They were killed instantly; I knew it.
I looked around, I could see my partner laying dead, shot in the chest.
This was not the first time it had happened. There had been many before him. They usually only lasted a couple of months. After a while I got used to people dying near to me. You never let there deaths hurt you; you got used to living a life with no feeling. I got used to it, not being able to love or care for anybody. The criminals had robbed me of my feelings. The criminals roamed the streets with no sympathy for the people they killed, or the family they hurt. All because they had lived the life of monsters with no feeling.
That night I slept with no gun under my pillow, and waited for an intruder to break in. Like clockwork he broke into my house. I waited and did not move, and then I got up and waited by my door. I could see him moving through my things. I quickly burst the door open. I saw him with a gun pointed at me. I looked at him ready to die, and ready for him to kill the monster created inside of me.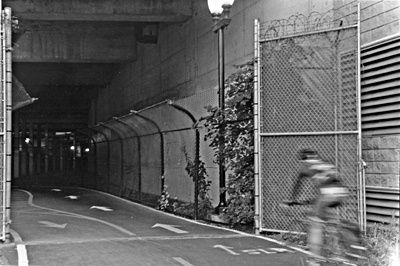 © Claire E., Bethesda, MD