Incognito
December 31, 2009
She was running. The sharp stinging sensation the night air created on her exposed skin kept her adrenaline pumping, reminding her aching body that she had to keep going. She only knew where to go with the darkness layering everything because of her heightened senses, but she had no idea where she was; all she knew was that she had to keep going. She could not stop until she was safe.

The truth was, she was never safe. The world was a large and dangerous place, swimming with people who dedicated their lives to hunting her. Up until yesterday, she had done the best she could to create the illusion of a normal life for any person she met in the duration of her existence; her existence of fifteen hundred years, all cooped up in a nineteen-year-old's body.

One woman had ruined it. And Cleo, even with her unusual ability to strongly sense the emotions of those around her, had never seen it coming.

The feelings of betrayal reentered her mind like a stab to the chest, freezing Cleo's blurred legs in their place; crippling her. She collapsed on the damp, icy ground of the unknown spot; she could feel there were others around. They were not close, but close enough for Cleo to feel that they were no threat. She stayed on the ground, invisible to the rest of the world as the bitter chill seeped into the skin of her uncovered legs, but she did not feel it.
She was truly alone in the world, just like she had been before. The only difference was, now Cleo had to try and hide from someone who knew all her secrets…and there was nothing she could do about it.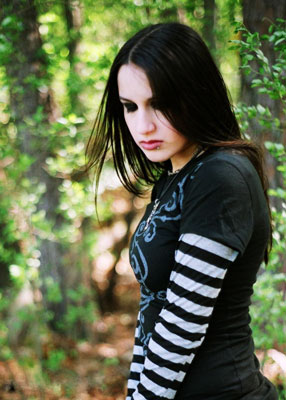 © Rebecca B., Marietta, GA