In The Park
January 5, 2010
The year is 1999 I'm in school in a Saturday because I have to get credits for the classes I didn't pass and it's hot outside. My mom told me that she was going to pick me up when she got out of work. Everyone in Chicago is nice and some are not. In the public park everyone goes to play with their dogs and spent some time with their family. But in this year something amazing happened.
I was at school when the teacher told us to write a full page essay about what would you thing would happen when the earth becomes to die and so are we. That was the first thing to do, and then it was to make a model of the earth in the future. I was so bored that I told the teacher if I could go to the restroom but actually I went to the park to play some soccer with my friends and other kids. At first I thought that it would be easy to get out of school but there were a lot of teacher's everywhere that I couldn't get out. The only exit so no one could see you would be in the teacher's restroom, so I went to the teacher's restroom and got out of the big window they had to keep the heat out because it was really hot in the restrooms. In the park there were a lot of big, kind of like a circus contests. Like the hot dog contest were I went to beat some others kids and adults to eat more hot dogs.
"In your mark, get set….EAT" the referee said. I was the first one to get the first hot dog and eat it. I was half done; in front of me was my friend's dad. And behind me was a big, tall guy. The price for the winner was eight tickets for the movies. I wanted the tickets to go to the movies with my friends and my girlfriend. In the park were kids, dogs, and parents running and playing activities. It wasn't that cold or nighters that hot, It was the perfect day for a fun day. Finally I wasn't feeling good after I eat those hot dogs. I was resting in the grass and looking at the blue sky. Birds, planes, and clouds looked like if they had a big body. While I was resting I heard people and kids yelling to run and to not go inside the trees because there was something scary there. I ran like the others but my conscience told me to stop running and go see what was so scary that everyone was running away. I went to the part where there were a lot of trees and were people were running away from. It was really dark but one's you get far enough you could see the light.
And there I was in the middle of the park surrounded by trees when I see a big, black, metal ball. I can see it was really hot because the ground looked like it was melting, and steam was coming out of it. The ball had and opening and I looked inside and there was nothing inside. When suddenly something green jumped to my head and started to dance. It was a little alien thing that had 5 fingers, 3 feet's and a tail. "They were scared of a poor fellow" I said.
Then I heard a voice that said, "HELLO".
Then I said, "who's there, show your self".
"It's me", the little alien said.
"AHH...AHH." I screamed. Like in Scooby doo, when shaggy and Scooby see a ghost.
"You can talk" I said.
"Yes, yes I can" He said.
"But… But how come, you know our language" I said.
"Yes. And a lot more than you can think of" He said.
"Why are you so little" I said.
"I'm not little, I'm big" he said.
"No, you're little, I can tell from looking from up here" I said.
"Oh, yeah" he said.
Then suddenly he was expanding and getting bigger. I was amazed that a little guy or alien like him could get so big.
A few days had passed and the alien is living with me in the basement. The next day the people start to ask questions about how they're seeing something green in there window and then suddenly there food is gone. And that's the day I start to suspect about him (the alien). The next day he says that he has to go because he's job at being at earth is over. So I said okay. The next years now one knew how and where there food went to, but I know were it is right now.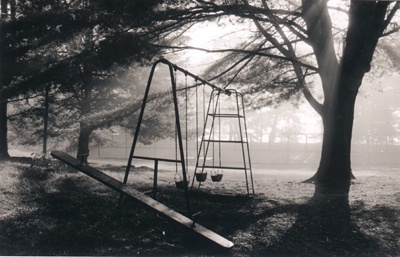 © Steve S., Marblehead, MA