Recruiter
December 22, 2009
It was the fist time I had been down from the mountain in a while. My family called yesterday. Joseph bought a ticket to the coast and he's not coming back. They need me.

Smoke stacks line the narrow roadway of the country. Factories growing corn blow large puffs of smoke into the dark sky. The air is muggy, suffocating. Corn is in season.

I can see the city on the horizon. It sticks out like a bruise on the landscape. It's over-populated, it's corrupt, it's home. I can see the main dome popping out like a blister. The last green exists there. It's a place where people seek peace and harmony. It will be taken over soon.

I enter the city. A robot, dressed in uniform, points a gun at my car. I roll down my window.

"What's the reason for your intrusion?" It puts the gun in my car and to my head. It's hardly lifelike, I can see right through it.

"Strictly family business," I growl, "Then I'm out of this hell hole." I feel the gun rise from my temple and roboguard backs away from the car.

"It's good to see you, Mr. Thork."
?The inner core is disgusting. The streets are slick from the acid rain. I park the car down a back alley and begin to walk. I say goodbye. It won't be there in the morning.

Down Applegate, a creature prostitute stops me. She puts her hand on my chest and tells me I look tired. She must be from sector nine. She still registers emotion.

"You need me." she says. I look her in her two different eyes. Her alien side drips with radioactive goo. Her human side is littered with freckles. It radiates beauty. Half of her brain has been used to feed the government. They have no trust anymore and now must have the minds of the people. To know what they are thinking, what they thought and how they perceive this messed up life. So yeah, she's hollow. I put my hand on the human side of her face.

"The only thing I need is a reason to live."
?The house is ugly. It's covered in metal. The doors, the windows all covered. I climb the crumbling steps and make it to the door. I knock once, twice.

"ONE SECOND!" I hear a low voice call from inside. I hear power tools. The metal sheet collapses and there stands a tall black man.

"Who are you?" I ask. "Where are my mother and sister?"

"Oh, I see." He replies, "You're the son that we called last night. Well let's just say that your family needed some testing." He lets out a low, rumbling laugh. I almost puke.

"What! Who the hell are you man?" I cry. I try to grab for him but he backs away. I feel immense pressure in my back and the world goes black. I hear his voice.

"I'm a recruiter."

Should have seen it coming.
?

I'm a recruiter. You see, after the big virus of 2070, that swine flu epidemic, scientists decided that it was time to change the ways of humans. It was time to change the way they thought, looked and acted. It was time to revamp the human race.

Sam Berrington first approached me in the year of 2081, eleven years after half of the human population had been wiped out. I was heading down to sector eight to buy a bag of pure milk. It was the only sector that still had the few cows that produced regular milk. I was tired of the milk enriched with twelve different types of radioactive elements. It makes you a little intense after a while.

Anyways, I was entering Fresh Farm on 80th street when this man approached me. I had seen others of his kind, with the face cut down the middle. They were experimenting. I hadn't gotten as big yet. They were just experimenting with themselves. He came up to me in the cold section, closing in on me like one of those extinct birds that dove for mice in the undergrowth. It was 108 degrees celsius that day and I was just enjoying myself in the cold room when I felt this warm hand come down on my bare shoulder. I turned around to see that face, which was mutated yet normal.

"My son, you look strong." he said to me. His voice was entrancing. And yes I was strong. After the epidemic I trained to be a "watcher of the people" as it was called. Things would get out of hand every day. They needed people to kill the rabid sick and fend off the looters. So I was buff, but getting older.

"I trained for three years with the tactical unit." I told him. He was giving me this eerie look like he wanted in my pants. But I knew that wasn't the case. Aliens don't have those kinds of needs. So I took it that he was looking into my brain trying to understand what I was thinking. They could do that with each other, but he was hard pressed to be able to do it with me.

"Son, I need you right now." He whispered, "I need you to work for me. I know you and I've watched you. I know you want a better life. I can give it to you Adrian, I can give you everything." I thought about this statement for what seemed like forever. I knew that the experimenters paid a lot of money, more than what was needed. No family, no money, no job. I needed this. I looked at the creature and extended my hand.
"You got yourself a deal mister." I said to him. He looked at me, confused, then down to my hand.

"You shake it, its called a hand shake."
?Being what I later found out to be called a recruiter was easy, so easy. It was also heartbreaking. I also got off not having to get mutated. The last thing I needed was half the face of an alien.

"They need your expertise, Adrian." Berrington told me in my first week. "You could give them so much to work with." The "them" he was talking about was the newly established rulers. When I got through all the training and started my job in 2084, a new line of rulers was in place. They were in sector ten, where I brought all my findings. Whenever I left that place, that tall stone building with no windows, I could always hear the screams from the bait, the cries of mothers, sons, daughters and fathers. I was always happy that my family died before the recruiting started.

I refused to give up my brain. I saw everyone on the street, half dead. Berrington told me that eventually they adapted to the feeling of only being able to think "differently". Nobody was ever the same again.

So when I went out on a daily basis to find the people that were on Berrington's list, the smart, the beautiful, the successful, I always reminded myself of the same things. I remembered my daughter and my wife's smile. I remember the old city, the one my mother raised me in and I remember that no matter what nothing ever stays the same. Ever.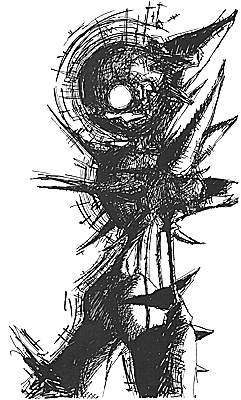 © Tag H., Galesburg, IL