The Punishment-Part Two
November 22, 2009
The Lord Bishop smiled as we appeared. Naked, in pain and about to be ousted from our home. Adam and Eve.

"Well, well" he smiled and tilted his head at me. "Having fun?" he gestured at the crowds of adults cheering for blood. We were to be filmed and made into a show for the adults.

"Go jump" I retorted.

"I will, right after I see you put into the desert" he smiled. One of the Punishers came beside me and dumped a bucked of thick goo over me.

"What the…?" I gasped.

"Animal Pheromones" the Lord Bishop stated. To make you a target of every animal, don't worry the girl has some too. Nathan." He laughed. Nathan that was my name and had been for my whole life. The girl who was sentenced to death with me had the name Fiona.

"Go crawl back to the dank cave where your dog's wife of a mother appeared from" I returned.

"Take them to the sands!" he called. Here was the chance I wanted, I could watch the sands spread out and maybe find a way back, but I had no such luck. A massive hand hit me from behind and I collapsed in agony.

I awoke beside the girl in the sand and saw no tracks. 'Damn!' I shouted inside my head. We were lost, stranded, dead meat. She was sunburnt, her naked form totally red I watched her body, the rise and fall off her chest, the breath from slender lips, she seemed…at peace. I almost smiled but it failed as I saw the bruises on her. They were fresh…maybe she wasn't knocked out; maybe she had been raped again.

"Hi" she muttered as she awoke, she rose and sunlight glinted off her bare breasts.

"Hey" I muttered to her. She stretched her body and a pressure began in my damaged loins.

"So why don't we find a cave or some other shelter before Killer Scorpions get us" she sighed and stood up. A large cave gaped just behind us like a yawning maw. She sighed and walked in and I followed. The light was beginning to dim. With no other choice we curled up together and fell asleep side by side.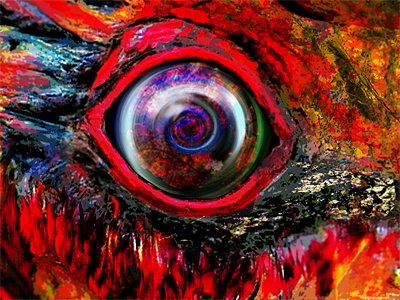 © Tom M., Philadelphia, PA