The Beautiful Haunted House
May 1, 2009
Starting in October you begin to hear stories of a scary old house that everyone swears is haunted. So as a skilled trick or treater you stay away from that house and venture toward the normal homes. You know the ones with the fake spider webs and scary music playing. Those are the ones you feel are safe. But that is where this story begins. It begins like every other Halloween story but this one is different. It is different because feeling safe is something you will never feel again once you enter the beautiful haunted house.
Jake and Max want candy and lots of it! They have mapped out the route and they are sure the houses they have selected will distribute the best and biggest candy. One house in particular has them giddy with excitement like two boys trick or treating for the first time. The house up two blocks from Jake is decorated with every piece of Halloween decoration party city has like a gingerbread house for Halloween. This family obviously gets into the holiday. Strange thing though, no one remembers seeing anyone living there. The house had been for sale for a long time then all of a sudden Jake and Max woke up one day and the house was beautiful. Every Halloween lover's dream!
The day had arrived and Jake and Max were busy getting ready for their big night. Jake's mom seemed worried. She told Jake to stay away from the beautiful house because she didn't know the family. The boys were crushed! They were sure that house would provide the jack pot of candy like the lottery. What to do? Jake's mom must be out of her mind. Nothing bad could happen when your house looks like the beautiful house. They made the promise not to go but crossed their fingers behind their backs.
The wind was howling like an old dog and the chill seemed to whip through their costumes like a sword. The weather changed almost as soon as the darkness fell over Jake's neighborhood like a cold wet blanket. They had a mission though and nothing was going to stop them. Bags in hand they went off into the Halloween night with Jake's mother biting her nails like a nervous cat. The first couple of houses were good and the candy was growing fast. Both of the boys kept looking at each other wondering if they should go to the beautiful house.

The sky was dark with only the full moon showing and Jake and Max seemed to be the only people left trick or treating. They had plenty of candy but had not turned to go home. All of a sudden they felt it. They felt the beautiful house calling them. As if they were hypnotised Jake and Max began to walk to the beautiful house. At the exact same time both boys looked at each other confused. The house had changed. It looked different. All of the new Halloween decorations looked old and the spider webs were real. The music seemed to be coming from inside Jake and Max not the house. What on earth was happening? In a trace like state they floated up the driveway passing the porch and flew into the house. Once inside everything seemed to stop. No noise or wind or cold absolutely nothing. Feeling only their heartbeat in their heads they began to breath as if it was their last breath. Should they turn and run or stay and find out what was happening. The answer came for them. Hearing a cackle of laughter from upstairs a chill ran down their spines. They had to stay.
The stairs began to creak like an old rocking chair. They saw a shadow of a figure coming toward them. The finger came out and stroked both of their chins as if to say come with me. They felt themselves being drawn in and they had no choice but to do what the figure wanted. Up the stairs they went, not really understanding the world around them. They could not comprehend how such a beautiful house was now old and creepy and smelled like a rotten piece of fruit. Why wasn't anyone trying to help them? Couldn't everyone else see that the house had changed? They felt their bodies being thrown across the room. Slamming into the dirty wall they both hit the floor with a bang. The door slammed shut and they heard the locks being turned. All they had with them was each other and enough Halloween candy to last a year. Out of confusion or exhaustion they fell asleep to the sound of nothing.
The next day Jake saw his mother running around screaming his name. Max and Jake screamed back that they were in the beautiful house to please help them. She could not hear them. Crying she went home. There was nothing she could do the boys had just vanished. The police knocked on everyone's door but the beautiful house and there Jake and Max would stay until next Halloween when two new boys would dare to venture into the beautiful haunted house.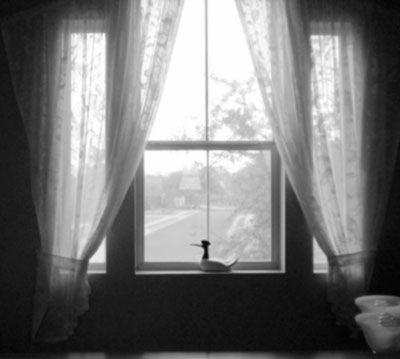 © Kathryn W., Austin, TX