Life would B Flat Without You
April 9, 2018
"Ready to start cranking and create a masterpiece? Let's show off our skills and be the star of the show." I replied. I'm normally not one to voice my thoughts so clearly and with such confidence, especially when it comes to performing. However, something about creating music with her and using the radiant confidence she has in herself motivates me to have confidence in myself. I feel I can do something incredible, and enjoyable at that.

"Here's the music sheet for the cello. We're working with Royals by Lorde." I started to explain while unpacking my things. Stephanie jumped with joy as this was one of her favorite songs. "I listen to Royals on my playlist on Spotify! Let's listen to it again and get a better understanding of the musical composition. I'll pull it up on my phone." Stephanie replied, sitting next to me leaving no space in between.

You know, usually you'd be wary about the social difference between a Stephany as a Senior and me as a Junior, but I guess for her that was nowhere in the picture when it came to music. Stephanie pulls out her phone with a mint blue phone case with a piske and usagi on the center. I'm surprised she'd even know about piske and usagi - they're Korean cartoons that are very cute. As someone who grew up in a Korean household, it's no wonder I'd be able to recognize it. She then unwraps her matching piske and usagi headphones and gives me the left ear.

"Here, let me know if it's too loud. I tend to listen to music at max volume so I can give all my attention to the song. Hopefully I don't break your eardrums, since you need those." She opens Spotify and scrolls down her massive master playlist until she finds Royals - Lorde. I've listened to it before, but she seemed so happy about it that her adorable ponytail started waving back and forth. How could I say no? We start listening to the song and we naturally start to tap to the beat; she begins to hum out the lyrics with her eyes closed and her head bobbing side to side. I take the chance to look at her and notice the little dimples she has when she smiles and her long dark eyelashes that became even more apparent when her eyes are closed.

Since when have I ever paid this much attention to someone, let alone a girl? My senses begin to heighten as I notice everything from the markings on the music sheet to the staccato sound of my heartbeat. My foot starts to tap even faster. No longer the beat of quarter notes, but eight notes. Ok, ok, let's catch my breath before something bad happens. Asthma has always run in the family, but I've never had it as bad so I tend not to bring my inhaler. My heart starts to gradually beat faster than the steady rhythm and it's not feeling right. Should I call my mom up? Am I going to be ok? She's a pediatric doctor so she'd know what's wrong with me.
For now, let's try and stop this excessive beating before I faint or something. I look over my right shoulder to see Stephanie still swaying side to side with her eyes closed, her head leaning back. She faces up as if she's imagining what kind of beautiful music she could make with this song. I'm over here panicking about what to do, and there she is having the time of her life. I'm truly happy that she's not freaking out about me, but instead lost in the music - I don't want to cause anyone anymore trouble. I reach down to grab my water bottle out of my plain old tote bag and begin to chug it down. Maybe I am having trouble breathing because I haven't drank enough water today, and I've exceeded my athletic abilities earlier while running away from Stephanie. I take a moment to swallow all of the water and breathe. I close my eyes and try to focus on the music rather than the near asthma attack I was having (just seconds ago maybe?).

After the song is over and I collect myself and I look over at Stephanie to see her having the time of her life. She takes off our earbuds and goes back to her black performance seat and align her music sheets neatly along the music stand.

"Are you ready David?" she asks me. "I was thinking of putting a vintage twist on it while sticking to the jazz prompt." Stephanie said as she introduced her idea. With her spontaneous approach and bubbly personality, she's always facing new project with a bright smile and an open mind.

"Sounds like a good idea." I replied, setting up the music stand on the piano. "What if, we had you play the cello without the bow for the first page or so to really solidify the bass and I can carry the melody. Want to give it a shot, even if it won't sound right the first time?" I asked, stretching my fingers and putting them in ready position.

"David, you know me. I'm all about going all out the first try and making the best of it! Let's just see how far we get and gauge where I'll jump in. You lay low on the bass clef accompaniment."Stephanie explains. "On four. One. Two. Three. Four!" She starts off with a simple chord progression with a significant swing to the quarter notes. I am not too sure how I feel about it initially, but after joining in with the right hand as the melody and left hand on accompaniment, it is starting to sound pretty good for the first try.

I try and carry it out until Stephanie picks up her bow and begins to jam out. Surprisingly, we make it through the entire song with the minimal preparations we did. This brings me back to exactly the reason why I joined this club: To really enjoy music for myself on my own free time. Of course I enjoy classical music. I mean, it's my forte, how could I not enjoy it? However, it's also enjoyable to go outside of my comfort zone and see how other musicians spend their extra time with their specialized instrument and their way of making it their own. I'm glad Stephanie is my partner; she has so much to bring not only to this project, but as a friend in general.
By the time we finish up the second round of tweaking this song and marking up our music sheets, it is time to go. I pile up all of our crumpled music sheets and loosely clip them back up with the paperclip Mrs. Trevino had initially given us. As soon as I pack up my stuff, I caringly offer a hand in holding Stephanie's tote bag and backpack while she treads down the stairs back into the music room to do a final check up with Mrs. Trevino. We get to the bottom of the steps and yet again she's out of breath. I don't blame her, it takes a lot to carry a full size cello on her back, especially for someone as small as her. I wait for to catch her breath for a moment before walking back.

I shuffle our bags to the top of my shoulder and offer my help like the gentleman I should be. She's not one to ask for help easily, and as someone who knows the meaning of small gestures, I'd thought I'd lend her a hand.

"Thank you David. I appreciate the extra hand, it's always a struggle carrying this big cello on top of my school supplies." Stephanie states as she takes her time adjusting her cello case.

"Anytime, I'll always lend a hand to a fellow classmate." I reply, smiling ear to ear.

Stephanie gathers her belongings, and we start to walk back to class, side by side, awaiting our teacher's evaluation and dismissal before the bell rings.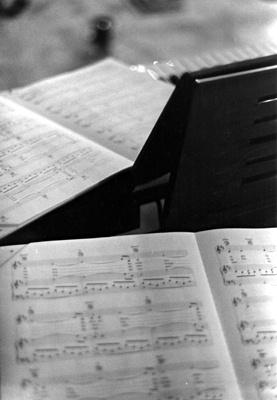 © Jessica M., Lansdale, PA