Dixieland
January 6, 2018

If I were to describe my situation within a genre; well it would be jazz. Sarah Vaughan? Yes. Chet Baker? Most definitely. Julie London? Of course. It's obvious that I am destined to be or not to be on a mixtape of deceased icons – I am a victim of ubiety, maybe even dubiety. And better yet I am Hannah Holland, a person who does not even like the musical taste of jazz or even the way it resonates in my girlfriend's phone - honestly those riffs make me want to riff off out of here; I'd never admit that to her, mind you.
This situation right now is: Her sleeping. The vinyl, whispering the calls of Billie Holiday and I whispering the words that are now tattooed on my cortex. I allow my fingers to chase after her hair that falls down onto her cheeks, laughing like an introvert with the silly thoughts of her hair screaming as my fingers curl and pull softly on the ends. This situation here is when the realism of my genre comprehends it. Like all great jazz songs they sing about what they want and how they cannot get it – I reckon they thought of this concept when they think of Jazzy and I. The concept of falling in a state of dry drunkenness.
The situation overall is: A missing piece of eternity. An eternal theory of pulling down the night sky and ripping out every star out of the world's illusion of a night's sky, and simply pouring them all out into Jazz's pours and watching her detox from me. Or in a non-activist term – everyone is intolerant to same sex couples, and so our relationship only exists within the four walls of Jazz's bedroom. Continuing to make layers of hair over her ears, her eyes slightly speak as Jazz reads another feminist book that got auctioned off at the local library; pages after pages she flicked until I finally got some attention - It was remarkable how engrossed one can get into an ongoing conflict of society – "Hannah..." her head shifted in the creases of my lap, sniffling further into my limbs; looking up at me. "If I were to participate in an act of liberation, would you support me?" and with that devious smile on her face I knew that my future was right in front of me, despite her side of terrorism. My eyebrow deliberately raised and the corner of my mouth did too. "No, no I wouldn't actually." Pushing the book of the bed I continued smiling. "I'd rather not be known as the 'chick that dates Isis'." She laughs extrovertly, with a little punch of my arm and a little subtle kiss on my shoulder, I pulled her chin up to mine and I kissed her more harshly on her forehead, swiftly moving onto kissing the dent of her dimples which has became my religion.
Getting up from her bed, the vinyl jolts to the end of the record and jitters for a change. "I need to get home to the Motherland, she'll kill me if I push curfew any later." I sighed into her neck as we hug for departure. "Okay Han." She let out a small little sigh that I've always tried to muster what emotion it actually holds. "I'm taking this too, gotta save the planet from your anarchist movement plans!" We both muster a small laugh as I drag the book up from the floor. "See you tomorrow FRIEND." Jazz emphasises. "Righhtttttt, best FRIEND."
And with that, our identities were hidden and our feelings were buried – until the next genre.

*
Monotone man teaches about how the soil formation affects the growth and rate of photosynthesis - I think. I'm not entirely listening as I'm reading a political debate that I found in my spam folder. "DENIES FOR BREXIT" stamped across the monologue - clearly interesting, clearly worthy of wasting print for. I reach the climax of the debate, where angry men with 'real' leather briefcases will begin to pound on wooden chairs when, I get hit. A hit. From a spirling, curled and slightly moist paper ball. Instantly I turned around from the desk and looked upon the state of a friend in front of me. "Ever heard of simply saying my name?" I said shallowly. "What's on the agenda today, then?" Corey mimicked with a point of his pen towards my ruffle of sheets. "Well." I began. He smiled when I turned my desk towards him, and shoved the papers on top of his book. "My agenda for today is in fact, thinking about the domination of -" Corey interjected me and said forget it. Why does no one have a taste for democracy?! With a concerning look for humanity I turned back around, only to have the same moist travelled ball thrown back at my face. "Miss Holland, are you feeling political or geographical?" Greattttt, what's worse… brexit or teachers? Returning the papers to my books I questioned him "The real question Sir is - are you feeling generous or rather indecisive?" And with that look of utter annoyance I got sent out of the classroom, all for having a mind of abstract thinking. Of caring about what is happening around us, rather than the formation of dirt. Honestly, shall I just live in ignorance?
Like every other students of this prison, I flip up my phone and read old conversations of Jazz and I .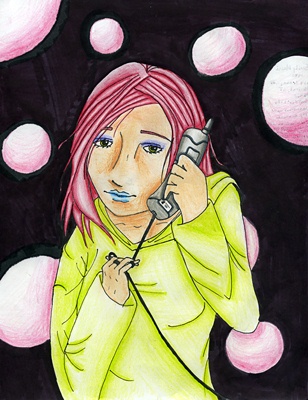 © Emily M., Milford, CT